_  .  _.._  ._  …
     If it looks like I just accidently hit some random keys while beginning to type this, morse code might not be in your wheelhouse. The mysterious string of dots and dashes spells out the name of a place I love: Texas!
     On 100 block of North Washington street in Marshall, facing their enormous courthouse, this life size bronze statue reminds passersby that the town holds a unique place in communication history. It sits on the spot where the first telegraph office in the state opened in February 14, 1854. Long-distance communication w-a-y before cellphones and emails made it something that we take for granted.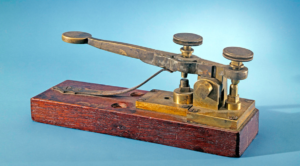 The Texas and Red River Company opened its Marshall office and strung wires all the way to Shreveport, which in turn had wires to New Orleans. By 1854 another line connected the town to Houston via other lines. That opened up a lot of business opportunities for the railroad town.
     By 1870 there were about 1,500 miles of telegraph wire across the Lone Star State. Instead of riders on horseback an stagecoach carrying handwritten messages for days, a series of sounds could be translated into words and handed to messenger boys as young as 10 years old who would deliver the messages on their bikes within minutes.
     Now here's the part that'll leave you scratching your head…
     In 1838, Samuel F. B. Morse (the inventor of the telegraph) wrote a letter to Memucan Hunt. Hunt was a friend of Morse's who just happened to be the Republic of Texas minister to the United States who had told the inventor countless stories about Texas. He had explained that although the republic had lots of land and heart…it was a bit short on revenue.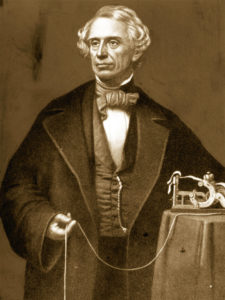 In the letter, Morse offered the answer to that problem by GIVING the rights to his incredible invention to Texas. Um, WHAT?!
     Somehow the letter, which had been forwarded to officials of the republic, ended up filed away, gathering dust.
     Y-e-a-r-s later in 1860, Morse wrote a follow up letter to Texas Governor Sam Houston.
"In the year 1838 I made an offer of gift of my invention of the Electro magnetic Telegraph to Texas … Although the offer was made more than twenty years ago, Texas … has never directly or impliedly accepted the offer. I am induced, therefore, to believe that in its condition as a gift it was of no value to the State … I, therefore, now respectfully withdraw the offer made then."
     Wow, talk about an opportunity falling through the cracks! Imagine how much money Texas could have made as the owner of that patent. Sigh…
     So while this beautiful bronze statue reminds us of an immense accomplishment…there is definitely a "oops" factor attached!