I wanted to write a post for Memorial Day that tells the story of someone with Galveston ties who gave their life in battle. The challenge was that there are so very many stories to tell. In the Broadway Cemetery complex alone there are veterans from every war from 1812 forward. Of course, not all of them lost their life in the service, and many of those who did have stories that are well-known.
So I decided to go with a little more obscure story with Galveston ties that many locals may not have heard.
When people visit the San Jacinto Battleground State Historic Site, they usually visit the impressive star-topped monument and possibly the USS Battleship Texas. But are you aware there are actually TWO cemeteries on the grounds?
The most visible of the two is close to the battleship, and known as San Jacinto Battlefield Cemetery. It is where the handful of Texans killed in the battle were buried near the Texan Army camp. Buried there are Dr. William Junius Motley, Sgt. Thomas Patton Fowle, Lt. George A. Lamb, Lt. John C. Hale and privates Lemuel Stockton Blakey, Mathias Cooper, Ashley R. Stevens, Benjamin Rice Brigham and Olwyn Trask.
A monument called the Brigham Monument was erected at the gravesite in 1881.
Taking the time to read the lengthy inscriptions, the word "Galveston" (of course) caught my eye.

"Olwyn J. Trask…died on Galveston Island… of wounds …received at the San Jacinto Battlefield…"
This is how it begins, folks. I see something like this and I'm off, down the rabbit hole of research. Olwyn's story took me on a complicated journey that involved his family, his unlikely demise, and even the beginnings of Baylor University. But here, I'll just concentrate on his story.
Olwyn Trask's sister Frances was a brilliant educator in Texas. By some accounts Olwyn, a recent college graduate, was sent to Texas during the Revolution by their family in Massachusetts to bring her home. Because he arrived in the Spring of 1835, however, it is more likely that he came to join her and their cousins (the Dix family) to seek out business prospects.
Soon after spirited 21-year-old reached Galveston though, he impulsively joined the Texas Army to fight for independence from Mexico.
He became a member of Captain William H. Smith's Cavalry Company, after General Sam Houston himself witnessed his horsemanship skills in lassoing a young mustang.
On April 20, 1836, the day preceding the famous Battle of San Jacinto, he was one of 80 men under Colonel Sherman who skirmished against the Mexican Army. Only two men in the Texan ranks were wounded, but Olwyn's were mortal.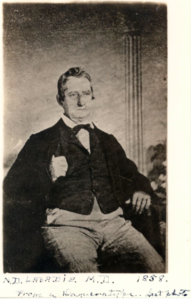 Nicholas Descomps Labadie was an assistant surgeon in the Second Regiment Volunteers under Anson Jones, and treated Trask when he arrived back at camp. The conditions were primitive, and resources limited.
Olwyn was transported to Galveston on a boat with Texan President Burnet and others, where he was to receive further treatment.
The following extract of a letter from New Orleans furnishes details of Olwyn's fate:
"I called on General Houston yesterday, to ascertain particulars relative to Olwyn J. Trask; he says that he lies dangerously wounded at the Fort at Galveston Island. His thigh was broken in a charge made by 80 of our calvary on about 250 Mexicans, on the 20thof April, in which he behaved most gallantly. He fell from his horse when the ball struck him, but was almost instantly seen again supporting himself on one leg by his horse and had the satisfaction to kill the man who shot him. This was confirmed by one of the aids of General Houston, then present, who remarked that he was in a position to see the whole of it. He said that after Olwyn had laid the man dead at his feet, he sprang on his horse again, in the midst of the enemy's cavalry, his own corps having retired and immediately urging him to his utmost speed, cutting his way through the ranks, and brandishing his sword at everything that opposed him, when, as the Aid remarked, they seemed to open for him to pass, and he entered the camp with his leg swinging like the pendulum of a clock."
Olwyn's thigh bone had been shattered. It was generally believed among those present that if he had received expert medical attention from the start he might have lived. The makeshift facilities are blamed for his demise about three weeks after the battle.
Upon his death he was buried with his comrades "with all the honors that could have been paid to the Commander in Chief; all the troops were under arms, and the officers of the Navy joined in the procession and minute guns were fired during its progress to the place of burial."
Olwyn J. Trask's name and gallantry were so revered in his home state of Massachusetts that young men went so far as to legally change their name to his.
In the years that followed, a community cemetery grew around these graves, but now part of the 10-acre site is partially covered by a parking lot for the battleship.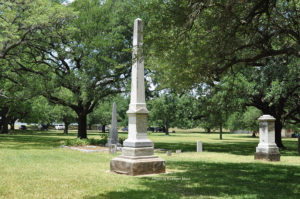 The deed records of Harris County shows that on November 2, 1837, Frances J. S. Trask, Olwyn's sister, was living at Independence, Washington County, Texas and was on that day appointed representative of Israel Trask of Massachusetts, who was heir to the property of his deceased son. She was awarded the 640 acres of land due Trask's services at San Jacinto, and used some of it to build a school. This school was the root of what would eventually grow into Baylor University.
Memorial Day seems an appropriate time to remember this young man,
and so many others, who have given their lives fighting for their beliefs and country.