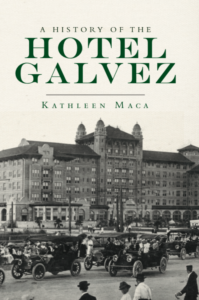 A History of the Hotel Galvez 
Available for pre-order! Release Date: Feb. 1, 2021
   Included in the National Register of Historic Places Hotel Galvez, known as the Queen of the Gulf, has reigned over Galveston's famous seawall for over a century.
  She began as the vision of a group of determined businessmen to bring prosperity and tourism back to their island after the 1900 Storm, the deadliest natural disaster in American history.
   Victorians sauntered down her Peacock Alley in their best finery, beauty pageant contestants posed on her lawn, the United Stated Coast Guard used her as a barracks, and generations of families have come to love her as a holiday escape. Her guests have included presidents, celebrities, military and some even say ghosts.
   Come walk the halls of the Hotel Galvez and travel through the history of one America's most beautiful and historic hotels.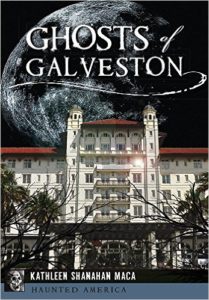 Ghosts of Galveston
One of the oldest cities in Texas, Galveston has witnessed more than its share of tragedies. Devastating hurricanes, yellow fever epidemics, fires, a major Civil War battle and more cast a dark shroud on the city's legacy. Ghostly tales creep throughout the history of famous tourist attractions and historical homes. The altruistic spirit of a schoolteacher who heroically pulled victims from the floodwaters during the great hurricane of 1900 roams the Strand. The ghosts of Civil War soldiers march up and down the stairs at night and pace in front of the antebellum Rogers Building. The spirit of an unlucky man decapitated by an oncoming train haunts the railroad museum, moving objects and crying in the night. Explores these and other haunted tales from the Oleander City. Now available from The History Press.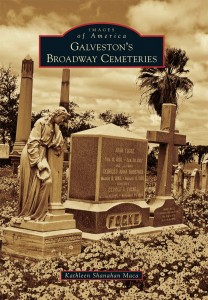 Galveston's Broadway Cemeteries  
Established in 1839, the grouping of cemeteries on the central boulevard of Galveston has grown to include seven separate cemeteries within their gates. Listed in the National Register of Historic Places, it is the resting place of famous and infamous citizens from Galvestons colorful past, including veterans from every war between 1812 and the present, heroes, scoundrels, philanthropists, murderers, pioneers of the Republic of Texas, groundbreaking scientists, and working-class citizens from around the world. Due to several grade raisings, there are up to three layers of burials within the cemetery, with some of the markers being lost forever. The stories of some of the residents are gathered here for you to enjoy. Now available from Arcadia Publishing.