This morning I posted a photo and bit of information about the Ross Sterling Mansion, which is known locally as the First Texas White House. After receiving several messages asking for a bit more information, I'm sharing it here.

     This beauty is right down the road from my own home…which is decidedly smaller!
     Architect Alfred C. Finn designed the scaled down replica of the American White House for Humble Oil founder and future Texas governor Ross Sterling. It's a Texas State Historical Landmark as well as being listed on the National Register of Historic Places.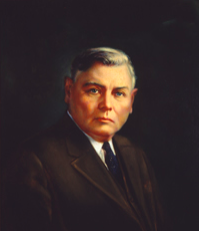 Finn, by the way, also designed Houston's Jefferson Davis Hospital, Sam Houston Coliseum, and the San Jacinto Monument in addition to numerous other federal and private projects.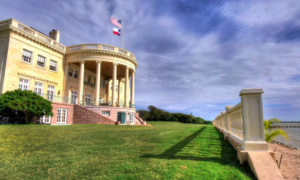 Construction on the grand residence began in 1924 and was completed in 1927. First named "Miramar" – meaning "sea view" – the 21,000 square foot mansion sits on six about six and a half acres of residential coastline between La Porte and Morgans Point.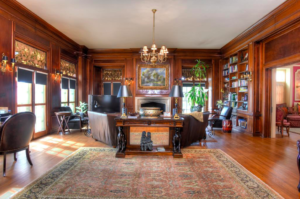 Its 34 rooms include nine bedrooms, 15 baths, a dining room that seated 300 guests, a ballroom with pressed tin ceiling and marble fireplace, a gentleman's lounge with carved wood fireplace and built-in leaded glass-front bookcases, a mahogany-paneled library, a ladies' parlor, and a kitchen with butler's pantry. Seven fireplaces warmed the waterfront home on chilly winter evenings, and the rooftop terrace still offers stunning 360-degree waterfront views.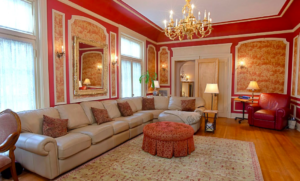 This pair of serpentine reversed staircases in the foyer would put the most stunning movie set to shame.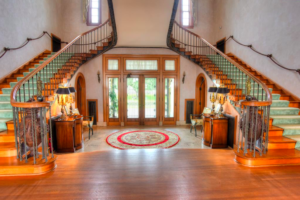 The waterfront side of the home features a 28-foot columned rotunda portico that most people immediately recognize as being based on the White House.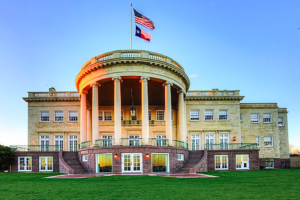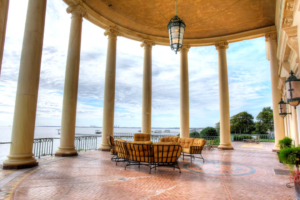 The staircases and lowest level are made of granite blocks, and the walls of the upper stories are made of foot-thick limestone. The foundation is reportedly strong enough to support a ten-story building. The stalwart structure has withstood countless storms including Carla, Alicia, and Ike. I would certainly feel safe within its walls!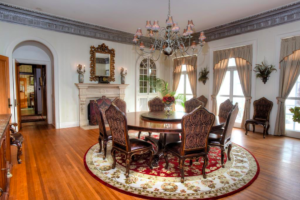 Ross Sterling was the 31st governor of Texas, serving from 1931-1933. Countless dignitaries and celebrities have been hosted in the home over the years.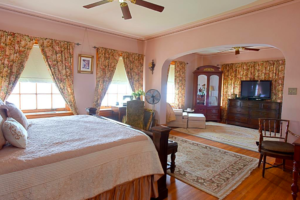 Sterling and his wife Maude Abbie Gage had several children, and they along with a generation of grandchildren enjoyed the home for two decades.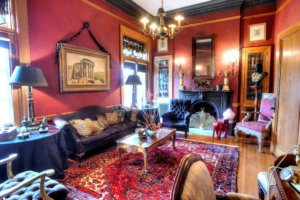 In 1946 he donated his mansion to a civic club and it was used as a juvenile home until 1961. During those years the home suffered heavy damage.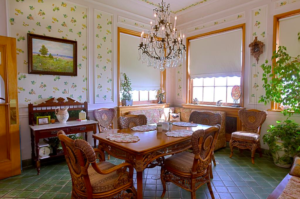 Thankfully a handful of owners in the interim years have restored it to its former glory. It still retains many of the original features including intricately carved and gilded moldings, silver and gold light sconces, Tiffany chandeliers, antique stone fireplaces, pressed-tin ceilings and marble and oak flooring.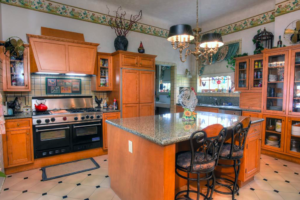 It is now once again a private residence, having sold at auction in 2016 for $2.8 million (though initial estimates were for $4 million).
     If the current owners insisted on having me over for tea, I must admit I wouldn't mind!
     If you'd like to cruise by on a Sunday drive, the historic home is located at 515 Bayridge Road in LaPorte.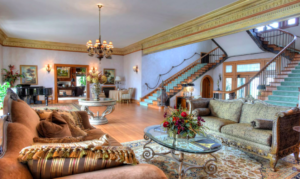 Click the links below to watch some entertaining home movies shot at the mansion back in it's Fitzgerald-era heyday!