Imagine finding the original house deed of your Victorian home, or perhaps love letters from over 100 years ago. It's possible you've been walking by them on a daily basis.
     Newel posts, or the large post ending a staircase, are structurally meant to keep the rest of a staircase safely anchored, but sometimes they keep secrets as well.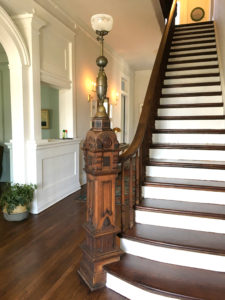 In the last half of the 19th century, machinery had advanced to make the popular "new style" of broad posts on a lathe, often leaving an empty space in the middle. It's the hollow posts that have lent themselves to the folklore of secret hiding places.
     Before the cap of a hollow newel post was attached (or removed later), some owners rolled up their house deeds, original plans or other mementos and placed them in the void before it was closed. The item most often found is a coin, placed inside for good luck.
     The lady of the house was, of course, aware of this hidden space as it was most likely one of the few places not easily accessible by her servants, children or spouse on a daily basis. There are many family stories of love letters from previous relationships or loved ones off at war, or documents that might reveal some tawdry detail from the owners past being found years later in a newel post.
     Though most of these stories are probably the stuff of family legends, enough have been true to keep the intrigue alive.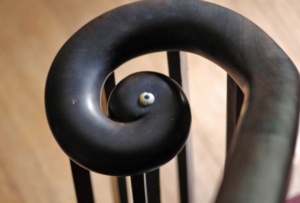 Another feature of a newel post cap sharp eyes might spy is a small round "button"  carved of ivory, whale bone or mother of pearl sometimes inlaid in the newel cap. These are called mortgage buttons or amity buttons, and signified their was no lien on the property – a point of pride for the homeowners. Not as mysterious perhaps, but interesting nonetheless.
     So the next time you tour a grand home with a large newel post anchoring the staircase, ask your guide if anyone has peeked inside. There might be a story there.