It's no secret that I love historic buildings and enjoy exploring for them on all my travels.
     Recently a few other members of the media and I had the special treat of a personally guided tour of Houston's historic Market Square are by Jim Parsons, director of special projects for
Preservation Houston. 

     It included one of my longtime favorites: La Carafe, the oldest commercial building in Houston, and certainly the oldest bar.

     The structure may be leaning a bit, but to be honest so are many of its patrons a they walk out the door. Walk inside and you'll definitely feel like you are time traveling.

     It was first built to house the Kennedy Bakery in 1860 which was soon making hard tack biscuits to feed hungry, tired Confederate soldiers. It later became the Kennedy Trading Post, a Pony Express stop, a drug store and a hair salon before becoming the  La Carafe bar in the 1950s.
     The small space feels cozy and intimate, and is a bit dark regardless of the hour, since it depends mainly on light coming through the front door and window just as it did when it was built. A dim chandelier hanging over the bar and candles on the tables provide ambient lighting to help she a light on refreshments and faces.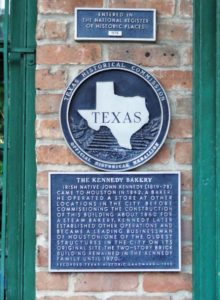 Depending on who you ask, that lighting makes this the most romantic or spookiest spot on Market Square.
     And yes, it shouldn't be surprising that it is also known as one of the most haunted places in Houston.
     But don't let that keep you away. The spirits (both the ghostly and drinking sort) are as welcoming as the jazzy selections on the jukebox.

     When you visit, be sure to take a look at the bar top, into which visitors for generations have been carving their initials and becoming a part of the history of La Carafe.

La Carafe
813 Congress Street, Houston
713-229-9399
     Check out the Preservation Houston website to schedule your own 90-minute docent guided walking tour exploring the history of Houston. Their knowledgable guides will help you spot hidden treasures in plain sight that most people stroll past every day without knowing what they're missing!