Public art in the form of murals has become so popular in recent years, but they aren't anything new. The next time you drive through a small town in Texas, stop into the local post office and take a look around. You might just find fine art where you'd least expect it.
     Often referred to as "WPA murals," examples of fine artwork created to enhance public buildings were actually a gift from the government to its citizens.
     But, first thing's first . . . the painting in Alpine wasn't actually created as part of the Works Progress Administration. The WPA (I'm not going to drown you in details here) was created in 1935 as part of the "Second New Deal" to provide jobs for unemployed men during the depression. Most of the jobs were in construction, building roads, bridges, schools, parks, and airports. There were also artists recruited by the WPA, but they were given fairly free rein in the subjects they painted.

     The murals I'd like to introduce you to were created by the Treasury Department Section of Painting and Sculpture which was created a year earlier than the WPA. It was later called the Section of Fine Arts. The goal of this program was to "secure for the Government the best art which this country is capable of producing." Luckily for us, this art was contracted to decorate federally owned buildings, including hundreds of post offices around the county.  That meant that everyone could enjoy fine art in their everyday lives, and the hope was that it would uplift the spirits of citizens during the hard times.
     As one writer summed it up, "One boosted paychecks, and the other boosted morale."
     Professional artists (no students or amateurs could apply) entered competitions for Section assignments and were encouraged to visit the individual communities so their artwork would reflect local life or history. And unlike the WPA paintings, Section artists had to have their proposed artwork approved by committee and were limited in the subjects they were allowed to portray.
     One project of "The Section" placed artists in Civilian Conservation Corps (CCC) camps to create paintings of CCC work and life, and to make safety posters and decorate camp buildings for that project. The Section even provided sculptures to be exhibited at the New York World's Fair in 1939.
     By the end of the program (brought on by World War II) 1,047 murals and 268 sculptures had been created – which is pretty darn amazing. You can still find some of them today, but many have been lost due to building restorations, demolitions or public buildings being bought by private owners.
   Anyway….
   That's why I went looking for an example in Alpine on a recent trip through West Texas. The subject especially spoke to me, since it portrays people reading. And nothing makes the heart of someone who writes books happier than seeing someone reading!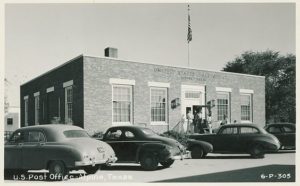 It was installed in 1940 inside the town's new post office which was built by…you guessed it…the WPA.

     The building on the corner of 6th Street and Avenue E served as the town's post office through 2000, when it became the appraisal office for Brewster County. Since that building is open to the public, you can still see the mural in person during weekday business hours. You just have to walk a bit to the left and peer around a few light fixtures and bulletin boards!
     In 1939, a Spanish-American artist Jose Moya del Pino (1891-1969) living in San Francisco entered a TDSFA competition to paint a post office mural in San Antonio. His design depicting Sam Houston and the Alamo didn't win, but he received a consolation assignment at the new Alpine building. The sketches he submitted with a "View of Alpine" did the trick that time.
    Jose couldn't afford to travel to Texas to take a look at the town for ideas, so he asked for suggestions from the local postmistress, who told him about the local college, cowboys and scenery. From there he went to work painting this 4' x 12' work in oil on Masonite. He even used a neighbor who happened to own a hat and boots as his model for the cowboy.

     When he completed the work in 1940, he accompanied it to Alpine for the installation and unveiling. The depiction of three locals relaxing with books on a hillside, with the Twin Sisters Peaks and Sul Ross State College (now University) in the background were a hit. The only question one local had was why a cowboy would be reading when the cattle were roaming unattended. (A valid question from someone who would probably never let that happen!)
     I love the style and subject matter of this painting. It portrays an idealized but beautiful vision of our state, and it was well worth the stop whether you call it a Section or WPA creation.
     Now, who's ready to go out and hunt down a few more these treasures?