Excited to announce my first book for middle school readers, releasing May 23!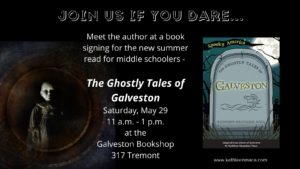 Meet the Authors Night
with
Kathleen Maca
Christine Ruiz Hopkins & Heidi Lutz
and Kimber Fountain
SATURDAY, JUNE 5 
5:30-8:30 P.M.
at the Tremont House,
2300 Ship Mechanic Row
If your organization or private group is interested in booking one of my tours or presentations, please contact me for rates.
Presentation topics currently include:
Galveston's Broadway Cemeteries

Ghosts of Galveston

The Historic Hotel Galvez

Hidden Meanings: Cemetery Symbolism

Cemetery Superstitions & Folklore

Planning your Texas Route 66 Trip

Family Trees for Beginners

Victorian Funeral Customs
     Other topics are in the works. 
If you would like to inquire about a special topic, just ask!
     Contact me at

kathleen@kathleenmaca.com

and we'll set something up.