Roadside motels in the 1950s and 60s lured travelers in from the road with their distinct architecture, flashy neon signs, clever names and often the promise of a cool dip in the courtyard pool.

     My father was definitely more of a "chain hotel" kinda guy on our family trips, so I just watched as we drove past these intriguing pieces of nostalgia every summer.
     But now…ta-da! They're making a comeback. (Who would've thought?)
     So obviously, when one of the newest ones in Texas invited me to stay and check it out, the answer was "Absolutely!"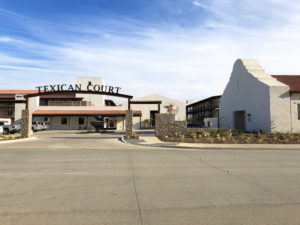 The Texican Court boutique hotel opened its doors in Irving in November, and just one look lets you know it isn't a "cookie cutter" experience. Arriving guests are greeted by a beautiful neon sign of a lasso wielding cowboy on horseback that would make Roy Rogers grin.
     The facade of the hotel is highly reminiscent (intentionally or not…but I'm convinced it is) of the Alamo Plaza Motor Courts – America's very first motor court hotel which, it happens, was just a few miles away in Waco. But that's a topic for another time.
     It's immediately obvious that every detail of the hotel was carefully curated to bring to mind the nostalgia of old fashioned motor courts while providing the utmost comfort to today's travelers.
     Merging Southwest and mid-century style, everything from the custom furnishings to the mid-size bright orange fridges in every room (fully stocked enough to have a party on the patio!) made me want to settle in and 'stay a spell.'
     If it had just been a bit warmer (darn that norther that blew through town), you would have found me in one of the poolside chaises with a margarita in my hand.

     My sister and I agreed that the shower was hands-down THE nicest shower we've ever experienced at a hotel (and we've been in a few).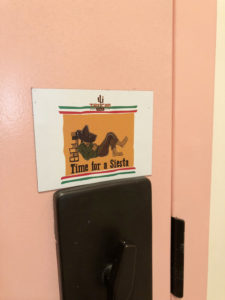 Half of the rooms open into hallways and the other half open onto balconies facing the pool area. each evening fire pits are lit around the property to provide gathering points for guests (not that that's a challenge, with two separate bars).
     For a short video "tour" of our room, visit Texican Court.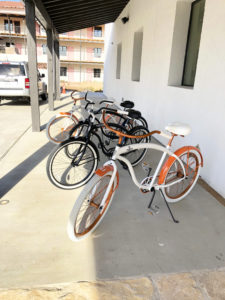 Friendly and polite staff who were ready and willing to answer questions and do anything they could to make our stay more comfortable.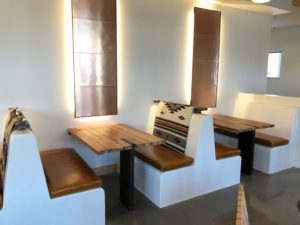 The complimentary European style breakfast was surprisingly varied, and included fresh fruits, pastries, yogurt, oatmeal and plenty of other options to start our day off right. And since our stay was during a cold snap we were especially happy to see a wide assortment of teas and coffees available.
     The Texican is right across the street from the Toyota Music Factory and Irving Convention Center, and would make a terrific place to stay if you were in town for a concert or business. It's easy to find, positioned right off the freeway and close to public transportation access, as well.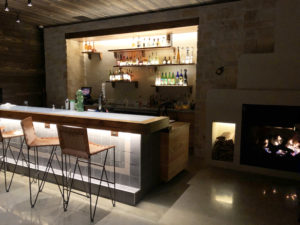 One of my favorite features was the presence of outdoor fire pits – one by the pool and one in a large open courtyard outside of the restaurant and bar. Both great spots for gathering with family and friends.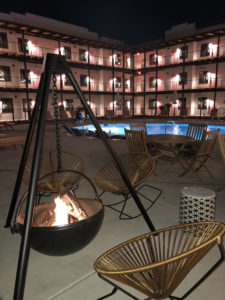 If you love the look of the Texican (I know I do!), you'll love staying there even more.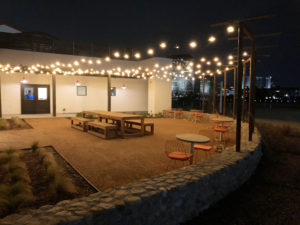 DISCLOSURE: I received a complimentary stay at this hotel, but that in no way effects my opinion or review of the property.