NOTICE: This trip was taken before the Corona virus quarantine. 
     Mother-daughter weekend getaways with my teenager are a gift, and we recently discovered an inviting bed and breakfast that was the perfect home base for our exploration of the charming town of Waxahachie.

     The last thing you might expect to find in this small town just 30 miles south of Dallas are British theme lodgings, but you won't want to miss experiencing the British Merchant's Inn for yourself.
     Owners Mary and Howard Baskin have been lucky enough to live in the red brick Mission style bungalow style home twice. They raised their family there before moving away for several years, and then re-purchased it in 2016 to turn it into a bed and breakfast.
     At the end of a long drive from Houston my daughter and I were relieved to pull into a parking space on the side of the inn, which sits on a lovely residential stretch of West Main Street. After being greeted at the door by a large concrete bulldog painted with the Union Jack we stepped inside, and into an explosion of creative interior design with a nod to the British Isles.
     If every corner you see appears to be a picture perfect vignette, there's a good reason. Mary worked as an interior designer for over 35 years and produced interior design articles for publications such as Traditional Homes, Country Home and Better Homes and Gardens as a regional editor for Meredith Publishing.

     She also organizes small group antique shopping trips abroad – which I'd love to take part in now that I've witnessed her knack for finding such unique items. Her delightfully amusing discoveries fill every room at the BnB.
     The home, whose layout is ideal for operating an inn, was built and occupied by James Wright Harrison by 1910  (according to the census), although the owner's obituary stated that he built it in 1905.

     James was born in Arkansas and came to Texas in 1868 when he was just 12, with his British born father, American mother and a houseful of siblings.

     Later, the cotton farmer married an English girl named Fanny and they moved into this home in town where they lived the rest of their lives, passing away just one day apart in 1944.

     Though they never had children, I'm pretty sure their love story lives on in the walls of their beautiful home.

     Mary took the opportunity to incorporate her love of England to reflect the heritage of the original homeowners, and create an inviting place where guests can recharge between jaunts into town to take in the sights.
     We stayed in an upstairs Room 1, which offered two separate beds. My daughter immediately chose the one nestled beneath a window and piled with pillows.

     My larger bed was beneath a crystal chandelier in another nook of the room, providing us both with a sense of togetherness, with a bit of privacy.

    Each of the guest rooms has a private bathroom in which the Baskins have provided all the necessities down to fluffy towels and make-up remover. My daughter and I were determined to enjoy the large claw foot tub during our stay (although we used the shower more often), so we stopped by a local drugstore and treated ourselves to fragrant bath bombs. (Because it wouldn't be a girls' weekend without a bit of pampering, right?) Ooh-la-la!

      Mary invited us to explore the other rooms to statisfy our curiosity, and each was a unique little oasis of comfort and style.


     Room #3 featured a very British, very red bathroom with walls adorned with antique hats.

     The romantic canopy bed in room number 2 is perfect for couples or just to treat yourself.  The room features its own private second floor patio balcony.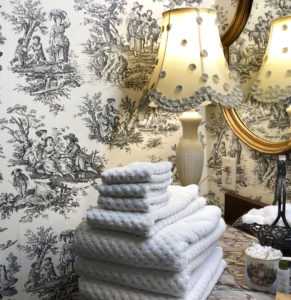 The only downstairs guest room, number 4, is the largest and features boldly striped walls.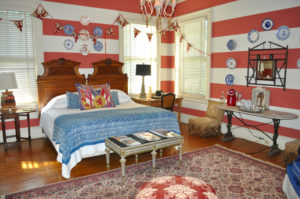 A "formal" downstair parlor and bar areas, complete with grand piano, are also on the ground floor and would make an ideal place to meet up with your traveling friends who may not have been lucky enough to stay at the inn.

     Our mornings began with cups of tea sipped from china cups while we were getting ready for the day. My daughter loved visiting the "tea station" in the mornings and evenings and choosing a different floral china cup to use…and I admit so did I.

     For breakfast we were given vouchers for an adorable nearby café called the White Rhino Coffee + Kitchen. Conveniently close to the inn it had plenty of parking and delicious food. I hate to think that I may have missed this gem if Mary hadn't sent us there! Located in an old two-story home, the downstairs has been renovated and opened into large comfortable spaces that encouraging lingering. And, um…the cinnamon rolls served in individual mini skillets? Yes, please! The staff was just as enchanting as the food and restaurant itself, so we were glad to be able to revisit them two days in a row.
     Anyone who thinks there wouldn't be enough to do around this small town needn't worry. We spent hours in the antique shops and chatting with the friendly owners, searched for and found all of the "Hachie Hearts" (read more about them

HERE

), had a yummy sandwich and malt for lunch at Farm Luck (an old fashioned soda fountain that is a "must"), photographed the old railroad station and bridge, and Art on the Square where we enjoyed chatting with a local artist patiently creating a new masterpiece.
     The recently restored courthouse on the square in town has quite a legend attached to it, that you can read more about

HERE

.

       Movie buffs may recognize several sights around town used as movie backdrops for films that include "Bonnie and Clyde," "Tender Mercies" and "Places in the Heart." And the friendly hosts of the English Merchant Inn are more than happy to cue up one of these classics for you to enjoy in the TV room as you put up your feet after a long day of walking from shop to shop.
      If you aren't in the mood for movies, you may want to pull up a chair to the den table to work on a puzzle or curl up with one of the numerous books from the shelves guests are invited to enjoy.
     I couldn't help but think how fun it would be to stay at the inn with a group of friends, taking over the entire second floor and enjoying the common spaces together, or sitting on the wide porch watching the rest of the world go slowly past.

    I think it's the perfect "excuse" to visit again, don't you?