I thought that when people referred to Palo Duro as the "Grand Canyon of Texas" they were probably overstating things . . . until I saw it for myself.

     The second largest canyon in the United States, Palo Duro is 120 miles long, 20 miles wide and up to 820 feet deep. It's the second largest park in the state park system – 28,000 acres (over 45 square miles) with 28 miles of hiking, biking and horse trails. That's a lot of territory!
     People have inhabited the canyon for about 12,000 years, and its history includes exciting chapters like Comanches and the Goodnight Trail. But This time around our family just focused on the absolute beauty of nature.
     Texas bought the land for the park in 1933. Civilian Conservation Corps workers spent five years creating the park, a cabin for their home base, the winding road to the canyon floor, the CCC Trail, and the El Coronado Lodge (now the Visitor Center). The craftsmen used local stone and wood for building materials and furniture, and forged decorative metal ornaments.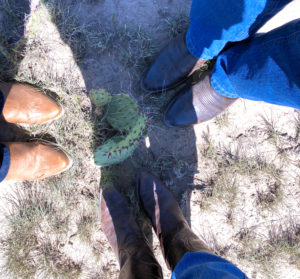 After our morning ride along the rim of Palo Duro Canyon (more about that in my last post)  we headed to the state park, ready to see more of the stunning scenery. Initially, we intended to swing in for a short visit since we knew the clothes we were wearing (long sleeved shirts, jeans and boots) were perfect for riding, but not for hiking. Once there though, the views lured us further and further into the canyon, anxious to see what was next.
    Just a couple of miles inside the entrance, we made our first stop at the visitor's center (the original the El Coronado Lodge) that was built by the CCC, so it was fitting that exhibits included some fascinating relics of the Corps' days in the canyon. There's also a small gift shop, though I'll mention a more "souvenir-y" option  later in this post.
     The vistas from the vantage point outside of the lodge were so enchanting, we knew we had to go at least a bit further into the park.

     We took Park Road 5 which winds down to the canyon floor, circles clockwise in a 16 mile loop and slowly climbs back up to the rim.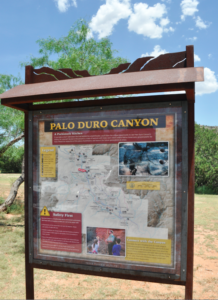 The first, short trail we ventured out on was relatively easy, but it was quickly apparent that at 11:00 a.m. it was already too hot (in addition to inappropriate clothing) for us to take on any of the longer trails. We were still fairly close to the rim, and the canyon floor would be about twenty degrees hotter!
     The view from even the least challenging trails are more than worth the effort and heat!
     Each one we investigated offered increasingly impressive scenery.


     Some of the trails were quite rocky and others were red dirt that I would have expected more in Oklahoma.

    Four geologic layers are exposed on the canyon walls, that seem to change color depending on the time of day and season of year – just one of the reasons Palo Duro draws so many amateur and professional photographers.
     Once I heard the erosion features referred to as "Mexican skirts" it was hard to get that image out of my mind. It's really appropriate, don't you think?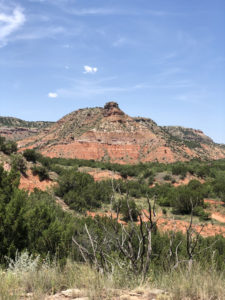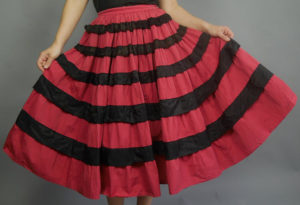 The park provides enough diversity in its habitats to be a comfortable home to quite a variety of wildlife, in addition to part of the state herd of longhorns. Coyotes, bobcats, white-tailed and mule deer, and many species of snakes and lizards. We saw several roadrunners darting across the terrain, which reminded me of living in El Paso when I was little – and the birds seemed to be everywhere.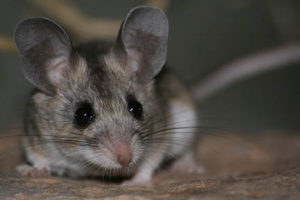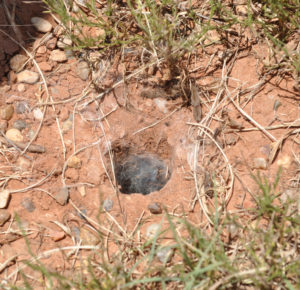 You might even spot some wild turkeys. Did you know that a group of turkeys is called a "rafter?" There's your trivia for the day!
     Two threatened species also live in the canyon: the Palo Duro mouse (which only lives in three Texas counties) and the Texas horned lizard (the State Reptile of Texas).
     Along our driving route we passed several picnic and camping areas. When I return for my next visit (and make no mistake about it…there WILL be a next visit!) I'd love to stay in one of the cabins on site. Imagine waking up to these views.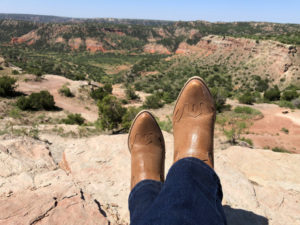 One of the most pleasant surprises we encountered was fields or wildflowers, as well as individual flooring plants that had stubbornly pushed their way up through the dry dirt. In central and south Texas many wildflowers were already past season in June.

    Indian blanket, American basket-flower (shown in photo), sunflower, paperflower, blackfoot daisy, tansy aster, sideoats grama, buffalograss, sand sage, yucca and prickly pear cactus decorated the canyon floor and made the area appear to be more of a place for living creatures than desolate and empty.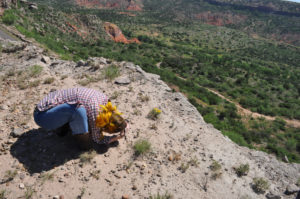 Even though we traveled the majority of the distance by car, we drank a LOT of water. Staying hydrated in the canyon (which can reach 130 degrees in summer) is non-negotiable!
     But if you think this vast canyon, however arid, couldn't possibly be romantic I'm here to tell you you're wrong. Sharing this grandeur (not a word I use lightly) with the ones you love is a memorable experience.

     We pulled over one last time at the base of the canyon to check out the trailhead for the famous Lighthouse formation.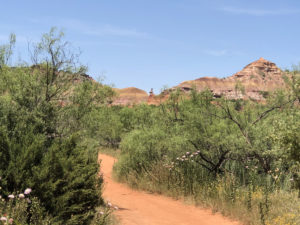 The Lighthouse Trail is the most well-known trail in Palo Duro Canyon. It's considered a moderate hike ( 2.72 miles each way) but having arrived during the heat of the day without the proper shoes, we vowed to return at another time to venture off to see unusual 310 foot tall formation. I walked just around the initial bend of the trail to take a photo (though far away) of the lighthouse, which looked small in the distance.

     The park has posted multiple warnings about the danger of heat and dehydration at the head of the trail, and even staffed a tent with a ranger to provide information and advice to people before they set out. Although I certainly didn't envy her, it was impressive how seriously they took visitors' safety.
     By that time we had worked up an appetite and exhausted our water supply, so we headed to the Palo Duro Trading Post on the rim for a late lunch. They don't serve anything fancy, but you know those times you're so hungry everything taste like the BEST (fill in the food blank) ever? Yep, it was one of those days. The staff was friendly, service fast and tables clean. Hamburgers, grilled cheese sandwiches and hot dogs seemed like the find of the day. And the ice cream? C'mon…what do YOU think?
     The Trading Post also offered a fun variety of souvenirs from T-shirts to mugs to jewelry, all very reasonably priced.

Happy with our visit and satisfied appetites, we left the park to go back to the hotel to take off those boots and give our feet a rest before heading out to see more of Amarillo.
     If you only have time to visit one place in the Texas Panhandle (and that would be a shame),

Palo Duro Canyon State Park

should be that place.
     When you go, remember to:
Bring and drink water

Wear sunscreen, a hat and protective clothing

Have your camera ready

Bring and drink water

Pick up a map before you head out

Wear comfortable, supportive shoes

And…you guessed it…bring and drink plenty of water!
     Do you prefer to hike, bike or drive through sites like this beautiful state park? I'm interested to know!