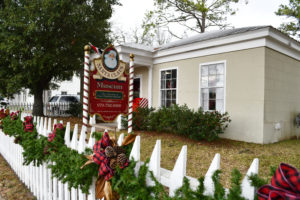 If you need a little (or a LOT) of Christmas right now . . . have I got the place for you!
     Because every day is Christmas in one special place in Columbus, Texas. It's the Santa Claus Museum. C'mon – you know if ANYONE deserves his own museum, it's the guy in red. And you won't even have to travel to the North Pole because this one is the only Santa Claus museum in the South.

     This totally charming museum doesn't have ten or twenty Santa Clauses. It has almost 3,000! All things Claus, including dolls, dishes, ornaments, music boxes, needlework, photos, artwork, magazine covers, cooking molds, promotional advertising pieces, department store displays, even Santa-themed wine –  from all over the world.  And no matter what your age is, you're sure to find at least one that looks familiar from when you were a kid.

     Don't expect all Hallmark style plastic St. Nicks though. Here you can find versions made from cast iron, china, basket weave, com shucks, bottle glass, paper, fabric, dough, and wood as well.
     Now I'll admit that some of the Santas are adorable, some exquisite, but – um – (sorry Santa) some are a bit creepy. But that makes it all the more fun.
     An almost life-sized Santa Claus, formerly displayed in the Priesmeyer Department Store in Garwood during the 1950s is one of the most popular Santas in the collection.
     The festive museum began with the Santa collection of Mary Ellen Hopkins, and opened in 1990 in her honor after her family donated the jolly assortment of treasures to the Columbus Historical Preservation Trust. The building was donated by Laura Ann Rau, and the museum is operated by the CHPT.

     Since the founding of the museum, it has expanded with the 2019 additions of the Luman Collection and the Hubenak Collection. Who knew there were so many Santa aficionados?

     Luckily, the Jolly Old Elf himself is also there to add to his Christmas wishes list, but beware – he'll already know if you've been naughty or nice.
     Add a road trip to Columbus to your holiday schedule to see this little museum. I promise Yule love it.

Santa Claus Museum, 604 Washington St.
Columbus, TX 78934
Fridays & Saturdays from December 1-19, from 11 a.m. to 4 p.m. Of course it's always best to call ahead to confirm.
January through November it's open by appointment only. To set one up, contact the Chamber of Commerce to schedule your visit.
You can find more details at their website

HERE

.