If you're only able to see one Christmas light show in the Houston area during the holiday season, push this one to the top of your list.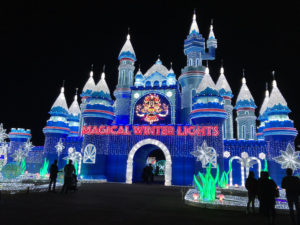 Filling 20 acres of space just outside Gulf Greyhound Park in LaMarque, where its been brightening holiday seasons since 2016, the remarkable spectacle is made up of intricate display pieces created using Chinese lantern-making techniques incorporating over six million lights. Some towering 60 feet high. It's the largest festival of its kind in the United States.
     The festival, the largest of its kind in the United States, runs for two months and requires ten months to plan the next one. Designs are sent to lantern technicians and artisans in Zigong, China, and the completed components are assembled on-site.

     To truly appreciate the work and artistry that goes into a piece, take a look at it both from afar and up close!
     There are nine themed areas in the exhibit, not counting the carnival: the Kingdom; the Village; the East; Houston; Space; Ice; the Dinosaur; the Square and the Sea.
THE VILLAGE
     My friend and I headed to The Village first, because . . . Santa! We wanted to get in a quick visit with Mr. and Mrs. Claus before the crowds came. Sitting inside a large lighted ornament with room enough for your entire family to pose together, the couple encourages friends of all ages to stop by with their wish lists and cameras.

     The Village is fairly centrally located, with a variety of traditional displays like nutcrackers, reindeer and presents surrounding a towering Christmas tree.

     Before you leave the area, look for a big lighted barrel and get a warm (or cold) drink to enjoy on your walk. On brisk nights like last night, it sure makes a yummy difference.


     Travel to The East, and enter visions of the homeland of the talented artists  who created these lantern lights.

     A grove of cherry blossoms invites visitors to leave heart shaped notes among its branches, and a fascinating water garden seems to ripple thanks to clever lighting patterns.

     After you find your birth animal on a wall of the Chinese Zodiac, turn to your right for a real "wow" factor: a wall of immense blooms in brilliant colors magically open and close almost seeming to breathe. This is one of the displays that really made us stop and think about all of the talented people behind Magical Lights.

     There's no mistaking The Houston section with it's large lettered sign. A stage that lights up as participants step and dance on its surface, a cowboy riding a bronco surrounded by longhorn, and a wall of sights from countries around the world fill out this area of the park.
     The special Space area this year pays tribute to the 50th Anniversary of Apollo 11 with lighted  tunnels populated with aliens, and a giant, walk-through maze whose center is circled by an enormous revolving space shuttle.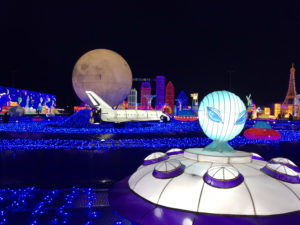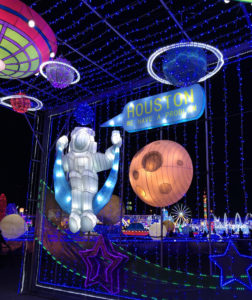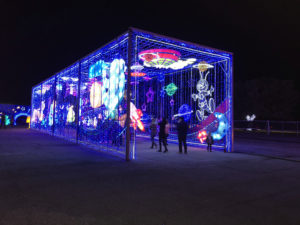 It's hard not to start humming "Under the Sea" to yourself as you approach the Sea display, which definitely ranked as one of my favorites of the entire experience – mainly because of the stunning walk-in area designed to make you feel that you were below the waves with the friendly sea creatures.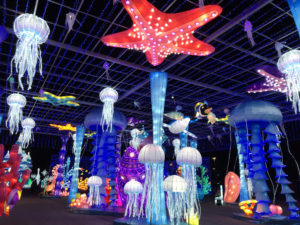 Of course, the lovely mermaid was a plus, too!
     For a couple of hours every night, the "Ice Sisters" (yes, we all really know who they mean) reside in Ice, ready to greet visitors. And if you take a photo with them, please be sure to drop a tip into Olaf's Summer Vacation Fund!
     After a chat with the frosty friends, enjoy a stroll through the rest of  this glittering display.

     Snowy ice flows are populated with polar bears, penguins and animated flying fish, near the  Russianesque  blue domes of a large structure. You can even sit inside a Cinderella style coach pulled Pegasus!


Rides and games in the Carnival area require additional tickets, but are especially popular with the younger set. The smell of the food alone is enough to draw you to this side of the park.
     The "Dinosaur" section of the park just beyond the carnival did, indeed have dinosaurs, but much more.
     Entering into the area, visitors will walk through a lighted archway past storybook and fantasy characters including Alice in Wonderland and her friends, Humpty Dumpty, rainbow-striped zebras and a couple of friendly looking elephants.

     Paths then wind through a display of animatronic dinosaurs with loud, roaring sound-effect. (Be warned that these moving, monstrous creatures may either thrill or startle small children, depending on their personality.) To the side was a tent filled with dinosaur-themed interactive activities for children, including digging for 'fossils' in a sand pit, riding small mechanical dinosaurs, watching baby dinos hatch from eggs, and photo opportunities of being in a dino's mouth, hatching from oversized eggs, or in a jeep threatened by a T-rex (think Jurassic Park).


     The Square is home to the performance stage at Magical Lights. When you enter the park, be sure to check the performance times for the Chinese Acrobats . . . you won't want to miss them. There are two 40-minute shows each night. We went to the last show of the night, just before leaving.
     This lovely bit of Chinese culture and some jaw-dropping acrobatic feats made for an exciting topper for the experience and a great topic of conversation for the drive home. (Be prepared for your kids to want to try juggling an end table with their feet when they get home.)






     Magical Winter Lights is open through January 5, 2020, every day including all holidays! So when you have that house full of relatives that need to get out and stretch their legs . . . now you have a plan! Ask about group rates and party plans.
     I must add though, that this activity is unique in that I would enjoy it just as much as a solo outing, family activity or reason for friends to get together.

     Tickets are less expensive if you purchase them online ahead of time, or look for special deals from Groupon or Costco. At the time I am writing this, Costco is running a deal for 2 adult tickets for 27.99, and Groupon has a deal for adult tickets for $20 and seniors and children for $12.
ONLINE
Adult (Ages 13-64): $22.00
Senior (65+)/Child (4-12): $13.00
Family 4-Pack: $76.00
Children UNDER 4 years old: FREE
BOX OFFICE
Adult (Ages 13-64): $25.00
Senior (65+)/Child (4-12): $15.00
Family 4-Pack: $80.00
Children UNDER 4 years old: FREE
Sunday – Thursday : 5:00 – 10:00 PM
Friday & Saturday, through Jan. 1 : 5:00 – 11:00 PM
     The festival is at Gulf Greyhound Park, 1000 FM 2004,  in La Marque. The entrance to the park is located just before the Pizza Hut / Taco Bell on FM 1764. For more information go to: www.magicalwinterlights.com