Today's icy weather is definitely not the norm for this part of Texas. Our streets, tires and infrastructure is designed to handle heavy rains and heat, but not snow.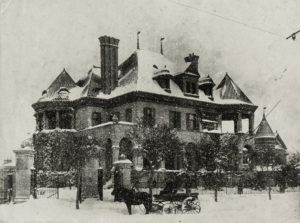 But because it's such a rare occurrence, photos of snowfalls from the past seem especially enchanting. On Valentine's Day in 1895 Galveston was blanketed with over a foot of snow, bringing street car traffic to a halt, and closing the doors of banks and wholesale businesses.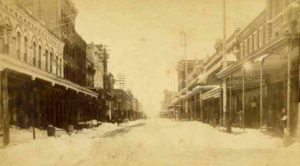 The snow began to fall about one o'clock in the afternoon, and continued to fall for the rest of the day.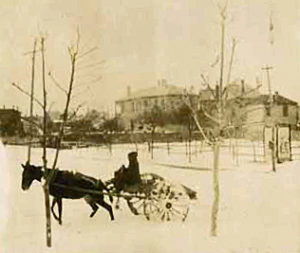 Shoes stores sold out of "gum boots" (rubber boots) and overshoes, as even the most sedate citizens took part in citywide snowball fights. Merchants, policemen, bankers carriage drivers, doctors an other adults took the opportunity to launch snowballs at each other, to the delight of onlookers.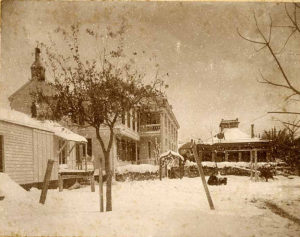 Those trapped at the train station waiting for trains that had no way of reaching them were less amused.  The bright spot at the station occurred when Officer Perrett saved a yellow dog he found half-frozen in a snow drift, and warmed it by the waiting room stove.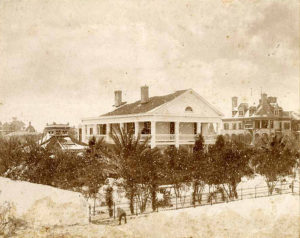 A few ingenious locals attached temporary runners on their carriages and used them as makeshift sleighs. Others were the victims of icy falls and other mishaps.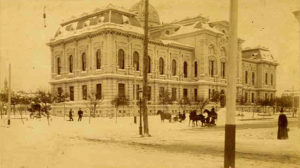 As evening fell Dr. Isaac Cline, the now famous Galveston meteorologist was busily answering telephone inquiries about the prospect of more snow, but were met with the news that the "worst" was over. Our generation isn't the first to be excited over the prospect of snow or worry about it's implications…and it certainly won't be the last.
Photographs courtesy of the Rosenberg Library Archives.