Chances are if you've seen any photos of Route 66, a shot of the infamous Cadillac Ranch in Amarillo was among them. The row of ten, graffiti-covered Cadillacs buried nose-first in the ground has become famous around the world.

     Their make and models are no longer discernible due to weathering and layers of paint, but everyone seems to know they're Cadillacs.

     The public art installation gained immediate attention from its inception in 1974 by eccentric businessman-turned-artist Stanley Marsh 3 (he thought the III after his name was too pretentious).
     Marsh commissioned the Ant Farm, a radical art group consisting of Chip Lord, Hudson Marquez and Dough Michaels, to carry out his plan.
     The classic Caddies dating from 1948 to 1963 were purchased for about $200 apiece and were installed with their original paint jobs. Depending on their drivability they were either hoisted or driven into the holes that became their almost-final resting places in a wheat field just outside the city limits.
     The temptation to visitors to leave their mark on the unusual sight became a rite of Route 66 passage, and didn't seem to bother Marsh who embraced the enthusiasm of the new tradition.
     In 1997 urban sprawl necessitated moving the interactive folk art attraction a couple of miles down the road to its current site in a former cow pasture on I-40. The cars were carefully moved and reset in their original order and angle. It's said that even some of the surrounding debris was moved to the new location with them, but that seems more like a bit of a Texas Tall Tale in the making.
     The cars were repainted in their original colors in 2002, and in 2003 they were painted in flat black to mourn the passing of the founder of the Ant Farm.
     Other than those two efforts, the colors and patterns have constantly evolved thanks to the enthusiastic efforts of visitors. It will never look exactly the same, even if you visit two days in a row.

     The Cadillac Ranch was one of our most anticipated stops along our trek across the Texas section of Route 66, and it didn't disappoint. It almost shouts, "Just enjoy and don't take yourself so seriously."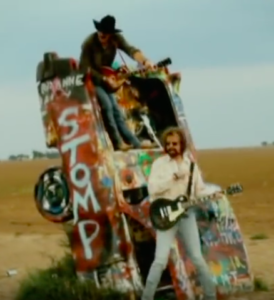 You may even recognize the Ranch from Brooks & Dunn's "

Honky Tonk

" music video  or Pixar's animated 'Cars' movie – where its silhouette was used as the design for a mountain range.

     But let me steer you in the right direction for your own Caddie Outing . . .
     First of all, it's free…so there's no excuse to pass up the opportunity to visit. Plan to bring at least one can of spray paint per person to join in the fun.

     Heading east on I-40, take Exit 60 (Arnot Road). Pass through the intersection with Love's Truck Stop and keep an eye out for cars parked on the side of the road to your right. Yes, the Cadillac Ranch is open 24/7/365 so there are always cars.
     Don't expect a big touristy, lighted sign shouting the location, though. What you'll see first is a turnstile gate and parked cars before you spot the Caddies propped up in a pasture in the distance.

     Typical for a summer day in the Panhandle, it was hot and windy so hats, sunscreen and water are essentials.
     The day we visited there was a fellow selling key chains and other quirky mementoes made from paint that had chipped off the cars, by the gate out of the back of his truck. Enterprising, but we passed. You'll see large pieces of this layered paint on the ground surrounding the cars, so you can pick up one to make your own creation if you like.

     Once you pass through the turnstile a wide dirt path leads out to the Cadillacs.


     Note: the turnstile gate was the only access I saw while I was there, so unless a visitor in a wheelchair has assistance to get through the tight gate and has their folded chair passed as well, I'm not entirely sure this would be accessible. I would advise calling the visitors' bureau who might know of another way in.
     I've also heard that the site can turn into quite a mud pit after a rain, but our timing didn't make that an issue.

     We purposely wore clothes that we didn't mind getting speckled with a bit of paint, since the wind chose exactly where the spray went.
     Don't hesitate to jump right in and leave your mark on any or all of the cars. It'll last at least until the next "artist" comes along.  Be aware if you're climbing on or inside them that though they're remarkable sturdy…they are deteriorating and shouldn't be 100% trusted to support you!
     Some people even spray-painted messages and patterns in the dirt surrounding the cars, which was so hard it made a pretty good canvas.

     Visitors are asked to carry out their empty spray cans to toss in the trash bins along the fence line, but of course not everyone does. Be a bit of a hero and pick an extra one up to throw out with yours!

     The only traffic jam these cars see any more are the crowds that surround them. We chatted with people from several states and different countries and of all ages, and everyone was having a ball.

     Off-beat? Yes. Fun? Absolutely! The Cadillac Ranch makes my list of must-stops along the road.