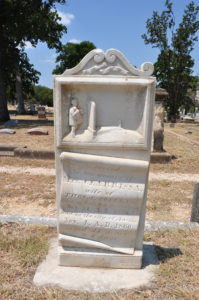 Many gravestones don't begin to tell the story of a life or death, just listing the barest of facts. But every so often I see one that illustrates a chapter of the life (or end of life in this case) that ensures the marker was created just for this specific individual. These are the type I wish every grave had, to help us appreciate the person memorialized.
This spectacular carving portrays a father holding a young child in his arms and standing at his wife's gravesite. I've never seen one like it in person.
Even with over 150 years of weathering, the details are astounding. He holds a top hat in his left hand and his child in his right. The drapes of the child's dressing gown hang down behind it's father's arm. Facial features of the man are still somewhat discernible, and his wife's grave is marked with a headstone and footstone. One knows immediately that he has been left alone to care for their small child.
It marks the resting place of Clarissa Wells Collins in Austin's historic Oakwood Cemetery.
Clarissa, a native New Yorker, married Travis County constable  and farmer Thomas C. Collins in January 1856, when she was 30 years old.
They were blessed with a daughter, who they named Clarissa Ann ("Annie"), in July 1860 but just four months later Clarissa passed away.
On Halloween 1864 Adelaide "Addie" Swisher, Clarissa's sister who had married James Monroe Swisher at her sister's home in 1857, died as well presumably from postpartum complications. Her name is listed on Tom's gravestone, along with the name "Little Lillie," their three year old daughter who died the same year.
The following year Tom enlisted in the military and was stationed in Austin.
He joined his wife in death in April 1871.
Their young child, who is referred to in documentation alternately as Annie or Clara, ended up being raised by her aunt Ann Marie Wells in Brooklyn far from where her parents were laid to rest. She lived the rest of her life on the east coast, and I wonder if she ever came to visit their graves and stood before this stone. It's doubtful.
So much sadness in such a short time.
But Tom's love, and grief, is immortalized here in marble and encourages those who pass by to learn their story.
I came to Oakwood specifically to look for this marker, and made an additional discovery that made my day.
As I was photographing it, I looked at the bottom right corner and found the signature of the carver… Allen & Company Marbleworks of Galveston. Especially thrilling, since Allen owned the state's first marbleworks, founded in Galveston in 1852 on Center Street between Strand and Mechanic. His business has now been owned by the Ott family for five generations.
The gravestone had traveled a long way to come here.
I love a good connection to Galveston history, and somehow seem to find them wherever I go.