Texan artist Tra Slaughter painted this mural of Sam Houston on the back of a building in downtown Brenham, facing the railroad tracks. If this image of Houston seems odd to you, you may not be familiar with his connection to the Cherokees.

   In 1809 at the age of 16, Sam Houston ran away from home in Tennessee and lived among the Cherokees. He was adopted by Chief Oolooteka and given the name Colonneh or the Raven.
   Although I grew up in Texas, I first heard about this other name while attending the university named after this Texan forefather. The name cropped up often around Huntsville in business names.

   While I was learning more about Houston, I found that his Cherokee wife's name was Talahina "Tiana" Rogers . . . a name that sounded pretty darn familiar to me. Always fascinated with my mother's Cherokee lineage, I started researching her genealogy when I was just 12.
   Sure enough, Talahina's great grandparents William Emory and Mary Suzannah Grant were my seventh great grandparents. So while it is a distant connection, I was happy to learn that I had a personal link to this fascinating woman.
   Talahina's mother Elizabeth was the sister of my 6th great-grandmother Susannah. Both were born in Houston's home state of Tennessee to William and Mary Emory.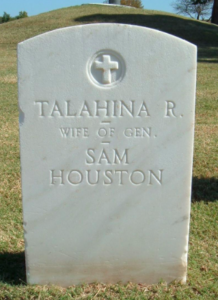 Sam Houston had three wives, but for obvious reasons, this one is a special interest of mine.
   This mural is spectacular, and also features an actual raven and a Mockingbird, the state bird of Texas. Art is such a terrific way to relate pieces of history.

   Have you done any research on your family tree? You never know what or who you'll find.