Most people only think of nutcrackers around Christmas but Kenneth Pape, owner of Pape Pecan House in Seguin, spent over 50 years collecting over 8,000 classic, obscure, comical and yes – even naughty – styles of the useful mechanisms.

     Since 1961, three generations of the Pape family have been involved in the pecan business. They sell everything from pecan trees to harvesting equipment, but most customers stop into the store for edible treats including several varieties of the freshest pecans you've ever tasted, chocolate-covered and candied pecans, pecan oil, and more.

     With a family legacy like that, it's pretty clear how his interest in nutcrackers came about. Pape began collecting nutcrackers in the 1950s during his travels, with many of the classic styles coming from Germany. Over the years, friends and family would send them to him as gifts, and a fellow collector even willed his own gathering to add to Pape's growing assortment. Estate sales, garage sales, antique stores, flea markets were his resources until her discovered ebay…and the collecting floodgates really opened.

      One of the largest assortments of nutcrackers in the world, this nutty collection is housed in a 3,375 square foot museum that spills from the front room of the store to an additional space lined with shelves from floor to ceiling.

   Nut picks, nut bowls and vices that would splinter the stubbornest nut; hand held and tables mount styles, of wood, metal, plastic and stone crowd every inch of space in view.
     Browse to your heart's content and discover whimsical depictions of Santa Claus, sports figures, likenesses of politicians, sultans, bishops, snowmen, leprechauns, "Naughty Nellies" (shaped like ladies' legs),  characters, movie characters, traditional soldiers, ballerinas, birds, alligators, rabbits, dogs and oh-so-many squirrels!

     Somewhat appropriately for the Texas store, a towering nutcracker cowboy guards a sample table.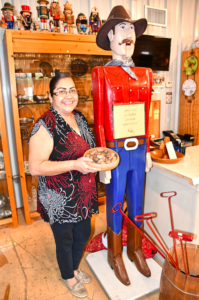 Pieces from the nutcracker collection aren't for sale, but it's unlikely you'll leave without something tasty to take home. But before you drive off, be sure to take a photo with the world's "Largest Mobile Pecan" just outside. It's one of two giant pecan displays in town. The other sits on the courthouse lawn in town.

     Admission to the museum is free, so "nut-urally" you'll want to add Pape's to your list of roadside stops if you're in the area.

     Kenneth Pape unfortunately passed away on October 8 2019. His wife Zee is now sole owner of the operation. Pape's stepson passed away several months previous, and his daughter now lives out of state so it is uncertain who will take over. Hopefully someone with a love for the area's nutty heritage will find his or her way to the helm.

     But before we hit the road, I'm curious…do you pronounce it:
pee-can
pi-kahn
pa-con
pee-cawn
     However you say it – they're delicious!
Pape Pecan House
5440 S. Highway 123 Bypass, Seguin
Monday – Friday, 8:00 a.m. – 5:00 p.m., Saturday, 9:00 a.m.-1:00 p.m.