What happens when a team of 25 professional ice carvers from China arrives on Galveston Island? Why, the chilliest fun to be found for the holiday season.

     While it may be a bit too early for most of us to start thinking about Christmas, it's never too soon to plan fun outings.

     Today I was invited by Moody Gardens to get a sneak peek at the process of creating the annual, larger-than-life ice carving installation Ice Land. I can honestly say that even though I've seen every year of Ice Land, this one is the best yet.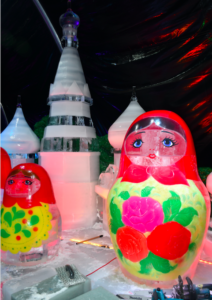 The theme is "Christmas Around the World" and incorporates ice sculptures of the Eiffel Tower, Russian Matryoshka (nesting) dolls, the Great Wall of China, a Dutch windmill and more…all carved from 300-pound blocks of colored ice.
     Experience has taught be to come prepared with gloves, and Moody Gardens provides long parkas to brace against the shocking nine degree temperature of the 28,000 square-foot tent where the exhibit is taking shape. Today's tour also included hard hats since it's a very active construction zone.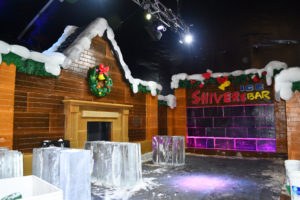 One of the attraction's most popular annual features, an ice slide, will let guests slip and slide from the base of the Eiffel Tower to the ground floor this year. And the unique "Shivers Bar" (aptly named) will once again be serving beverages inside the venue…if you are brave enough to chill out counters and tables carved from ice!
     I'll be back in two weeks to share their progress with you, and tips for how to save on family visits to Moody Gardens Ice Land and Festival of Lights.
     Mark your calendars: Ice Land will be open November 16 through January 12 – plenty of time to get your chill on!
     Right now, though, the artists need to get back to work…and I'm breaking out the hot chocolate!

For ticket information, visit

Moody Gardens