I recently learned that the former Ranger's Cottage at Varner-Hogg Plantation in West Columbia is now available to rent for overnight stays. I didn't hesitate to make a reservation immediately!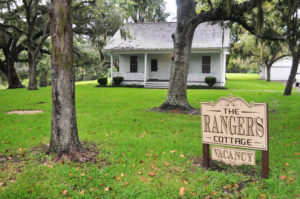 The Varner Hogg Plantation is a State Historic Site featuring the original plantation home and several outbuildings. See my previous post for more about it:  https://bit.ly/2Nxki0L
Though the website had basic information about the cottage, the photos online don't do it justice. Being a Girl Scout leader, I know that the word "cottage" sometimes means extremely rustic and bare bones. While that won't scare me away, I was pleasantly surprised with this location.
Built in the 1920s, the Ranger's cottage sits slightly back across the site road from the main house, beneath large pecan trees that probably predate my grandmother.
Rocking chairs and a bistro table and chair set wait on the porch, inviting guests to linger and enjoy the immense trees, heavily draped with Southern moss. I honestly wasn't sure I'd get much further, since I have in incurable weakness for porches, but I'm glad I did.



The entire cottage has been updated and decorated with comfortable, modern furnishings. No detail has been overlooked in making each room a welcoming space. The living room even has a basket of monogrammed blankets so family or friends can curl up on the sofa to enjoy an evening movie.



A stairway from the rear of the cottage leads to the second floor, and an additional full bath and two large bedrooms. Again, I was surprised by the size of the rooms, considering the age and original use of the cottage!
The yellow bedroom with twin beds and floral bedding seemed bright and cheery even on the dreary rainy day that I arrived. 


The second upstairs bedroom was decorated in a lovely shabby chic violet, with full beds.

The cottage was so comfy, it would have been easy to just nest inside, but of course one of the major advantages of staying on site at the plantation is being able to explore the grounds even after visiting hours. Everything on site is within easy walking distance, including the main house, the ruins of the sugar mill and slave quarters, picnic grounds, the old family cemetery and more.
It was a special treat to wander around after an evening rain taking in the beauty and history while being serenaded by the frogs in Varner Creek.
I'm already planning a girls' trip to share this wonderful find!


For information about making a reservation for your stay at the Varner-Hogg Plantation, visit https://bit.ly/2oHdpkB
Have you ever stayed at a historic site? If so, which one and did you enjoy it?