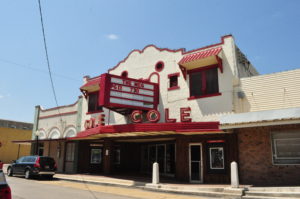 Just look at those lines! The design of this historic theatre in Hallettsville is enough to make any architecture-lover swoon a bit.
     Opened in 1939 as a silent film theatre it was owned by Mart Cole, who had a chain of theatres in south central Texas.
It seated 700 and featured Spanish murals on the interior walls.

The first screening was of "The Female," starring Betty Compson. A piano played by a local musician supplied the live soundtrack.
     The following year it made the transition to a sound theatre.
     You can still enjoy a current run movie and refreshments at the Cole, joining the generations who have before you.