Texas traditions can originate from almost anywhere in the world, thanks to our diverse history of immigration. It shouldn't come as any surprise that some of Mexico's customs have been brought north of the border. The most colorful, and thought by many to be mysterious, celebration is Dia de los Muertos.
This post contains affiliate links. Any purchases made through these links keep this blog running.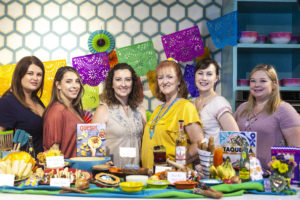 When I first approached a group of friends about having a Dia de los Muertos party, they were a bit hesitant. "Isn't that kind of morbid?" "Isn't that a celebration of death?"
    The simple answer is no – it's something much more upbeat than you may think.
    Luckily, a few of them had seen the Disney Pixar movie

"Coco"
 

that familiarized American audiences with the celebration through a powerful story about family, community, tradition and remembrance. Think about Memorial Day, and the concept doesn't seem so strange.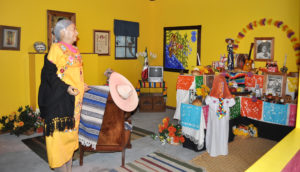 The gist is to celebrate the lives of our ancestors, rather than mourn their passing, by incorporating food, drink and activities they enjoyed in life. Family members create "altars" in their homes with photos of loved ones surrounded by offerings of food, flowers and mementos. Others visit family cemeteries to decorate ancestors' graves and share stories about their lives. The days of the celebration surround the Catholic "All Souls Day" on November 2. (So it isn't really a 'Halloween thing" like many think.)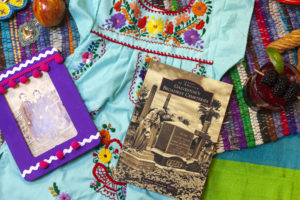 Many of us no longer live in the communities of our ancestors, so circles of friends tend to become our new families. That's why I thought having our own Dia de los Muertos celebration together would be a fun chance to celebrate all of our families and have some fun and great food at the same time! (Plus, I have some talented friends, so we're always up for a reason to celebrate together!)
    You can easily put together your own party as well.
    Be sure to incorporate photos of loved ones who've passed, and share their stories. It keeps their spirit and your family lore alive.
    I not only included photos of my mother, who we lost last year to Alzheimers, but also made tissue paper flowers for decorations – a craft she taught me as a child.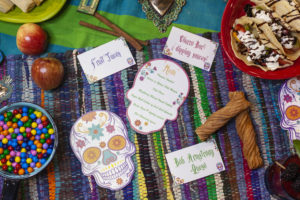 Attention to the smallest details can make a theme like this really come together. The talented 

Evangeline Event Designs

 made adorable sugar skull invitations and colorful menu cards, and I found some adorable small decorative accents, as well as a beautiful embroidered skull dishcloth at 

Hendley Market

. The bright Fiestaware plates and platters are from Yesterday's Best.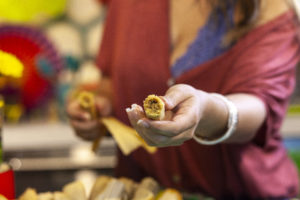 No Mexican theme meal is complete without tamales. We loved these from 

Pennie's Tex Mex Takeout

.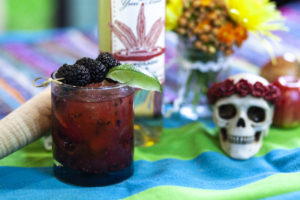 Alicia from 

The Kitchen Chick

 made chorizo with apricot sauce, Bob Armstrong queso (from the "Queso!" recipe book she carries in her store), and an amazing  Blackberry Mezcal Smash Cocktail.
    Our friend Stacy, otherwise known as the Hurried Hostess, made amazing fruit tacos and a churro bar. Yum-ola!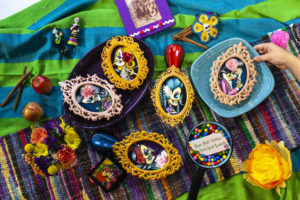 But the item that really  had us all gasping in disbelief were the gorgeous cookies created by Jennifer from 

Good Gosh Ganache

. I mean, really…look at these beauties!
     Our friends Hailey and Tamara used their styling talents to help our buffet look amazing. Making this event such a group effort made it even more special.
    Many communities in Texas offer the opportunity to experience Dia de los Muertos, including San Antonio, Corpus Christi, Victoria and Austin. Check your local community calendar to see if there's one near you, and celebrate!