Looking for a roadside attraction that's "on point?" (Sorry, I couldn't resist)

          In line with making sure that everything really IS bigger in Texas, the town of Bowie offers a Guinness World Record Bowie knife.
     Now in case you aren't familiar with Bowie or just need a quick refresher, Colonel James Bowie was one of the heroes of the Battle of the Alamo. But what his name will forever be linked to was a custom knife, designed for him by his brother Rezin. It was reportedly 9.5″ long, 1 1/4″ thick and 1 1/2″ wide with a simple riveted wood handle. It was his skill using this weapon that became legendary.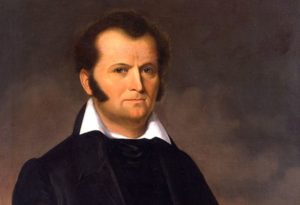 In an 1827 brawl with several men on a sandbar outside of Natchez, Mississippi, Bowie was stabbed in the chest, shot multiple times and beaten half to death but still managed to win the fight using his large knife. Two of his attackers lay dead and two grievously wounded. The action would be almost unbelievable if we watched it in a modern movie.
     But back to the impressive roadside attraction that bears his name…
     Bowie, Texas, Jim Bowie's namesake town in Montague County, erected the world's largest Bowie knife in his honor. The impressive weapon is 20'6″ in length and 16'10" high. The steel blade alone (which was created hollow to lessen the weight) is over 14′ long! Constructed basically the same as more functional versions of the knife, it is made of steel and brass with a wood handle  made from a Bodark tree (*more information about this side fact below!). It weighs 3,000 pounds and had to be lifted into place with a crane. The monument was designed by engineers to withstand normal seismic activity, winds up to 90 per hour and an inch thick layer of ice. Basically, to be as tough as the man for whom it was named.
     The blade isn't sharpened for safety reasons, although crawling on the monument isn't allowed. But the positioning of the knife provides some interesting photobombing opportunities.
     You can see this cutting edge monument (sorry…again) for yourself in Pelham Park in Bowie, Texas. There is easy, free parking at the site as well as a few brief explanatory plaques about the man and his weapon.
     This is one of those sights that will convince you everything really IS bigger in Texas.

*The Bodark tree that was used to create the handle of the monument goes by other names you might recognize: bois d'arc, Osage orange, horse apple, and hedge apple. The hardness of bois d'arc made it popular with wheelwrights for use in the spokes and hubs of wagon wheels, bridge timbers, foundation piers for houses and paving blocks. It was also prized for being the the perfect post material for barbed wire fences due to its toughness. I'd say that makes it an appropriate wood to incorporate into a Bowie Monument, wouldn't you?

SITE: Roadside monument
LOCATION: Pelham Park, on the northbound side of US 81/E. Wise Street
ADMISSION: Free