As a colorful nod to its namesake fruit, Pearland installed a public art sculpture trail affectionately dubbed Pear-scape.
     Pearland's original pear groves were devastated by the 1900 hurricane, after which the city changed its focus to other types of agriculture. But thanks to the Pearland Alliance for Arts & Culture, a different variety of pears now decorates the local landscape.
     Four-foot tall, fiberglass cast pears hand painted by local artists have been installed in ten locations throughout the city. There are 20 pears in all, sometimes solitary and sometimes in groups, but you'll need a car to visit them all as they aren't within walking distance of each other.
     Whether you're just visiting Pearland or doing a stay-cation, finding all the unique fruits can be a fun activity for families. Make the search more exciting by having a scavenger hunt for the pairs with clues to where to find them! Clues for either adults or a kid-friendly version can be found

here

.
     Or you can cut to the chase with addresses and a map in hand by printing
this

reference.
     Even with a map, some of the artwork is a bit more easily visible than others, but they are all worth the effort.
Let the hunt begin!
Remembrance Pear
by Sherri Harris
Hilton Garden Inn, 12101 Shadow Creek Parkway
Visible from street
A beautiful, sentimental tribute, this one should be on your to-see list even if you can't make the rounds to see them all.
Because it's located at a hotel, this stop also provides a restroom break opportunity (hello!). The restaurant is only open for breakfast and dinner, but if your hunt is taking place in the morning or evening…you're in luck!

One World
by Emily Grygier
Reflection Bay Event Center, 12234 Shadow Creek Parkway
This one is not visible from the main road. The best way to find it is to go to the address, turn in by the Sherwin-Williams paint store and drive all the way to the back of the complex.
There is parking available at this one, but not much else to see while you're there so it's a quick one to check off your list.

Patched to Pear-fection
by Kathy Ericksen
and
Paint a Pear
and
Close Pear
by Joan Moody
Pearland Town Center, 11200 Broadway Street
Drive in and to the back of the center, and the pears are at the back of the shaded pavilion.
Plenty of parking since it's a shopping district, and once you've marked these beauties off your list, you could easily spend the rest of the day here. Lots of shopping and dining options, and places to grab a quick cookie or pretzel as a reward for a successful pear hunt! For a list of restaurants and stores, click
here

.
I just love "Close Pear" with all of its brilliant circles!


Wildscape
by Robin Tatem
and
The Pollack Pear
by Hannah Levy
and
A Perfect Pair
by Suzette Schutze
This trio of sculptures is at Southdown Park, 2150 Smith Ranch Road
There's plenty of parking and would make a great break spot for families. A nice playground and shade provide a great spot to enjoy a picnic or cold drink. If you haven't prepared for ahead of time, you can grab to-go options from nearby Big Horn BBQ, Jack in the Box or Panda Express.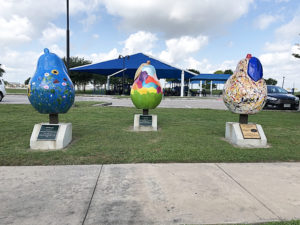 Whimsical Harmony
by Lee Ann Hillbrich
Pearland Golf Club, 3123 Flower Fields Lane
To see this one, you'll go through a gated entrance, but the guard will wave you through when you tell him you're on a pear hunt.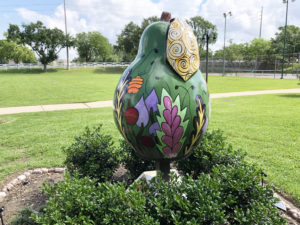 Pear Blossoms
by Celebration by Kathy Ericksen
and
Celebration
by Paulisa Winsong and Sandy Shiver
Zychlinski Park, 2243 N. Grand Blvd.
Though they're all special and unique in design, I have to admit that Pear Blossoms is my favorite. Its neighbor Celebration is going to be a big hit with music lovers, too!


Pairing Together
by Kelly Kronfeld and Chris Garcia
and
Loving Life
by Josephine Eager
and
Peary, Peary Night
by Lisa Tenney
Independence Park, 3919 Liberty Drive
Van Gogh lovers are going to revel in this one. The Peary, Peary Night version of Starry, Starry Night is such fun. But be sure to take a closer look at its pear neighbors installed at the same spot to enjoy all of the details included by the artists. Can you find the Texas flag?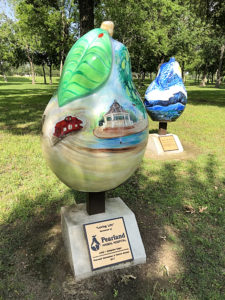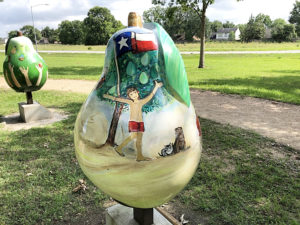 Infinite Diversity
by Roberto Barron
and
Pearsonified
by Kelly Kronfeld and Chris Garcia
and
Rose Pear
by Kermit Eisenhut
and
Swirls of Gold
by Claudia Zopoaragon
City Hall Gazebo, 3519 Liberty Drive
This one rewards scavenger hunters with four pairs in one location! It also has a fountain and antique train depot with a caboose on site that make great exploring and photo opps.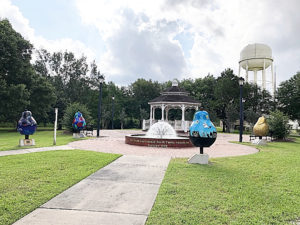 Dream Birds
by Pelhong  Endris
King's Beirgarten & Restaurant, 1329 E. Broadway Street
In front of one of Pearland's best restaurants, this one has plenty of parking and would make a great lunch stop on your route. To find out more about King's Beirgarten and their amazing German food, click

here

.
Life in Color
by Umanga Liyanage
BAKFISH Brewery, 1231 Broadway Street
And because grown-up pear hunters deserve a reward, too… we'll wrap up our pear gathering at a popular local brewery. If you want to quench your thirst, check for updated hours the brewery is open by clicking

here

.

PHEW! That's a lot of fruit!

Which design is your favorite?