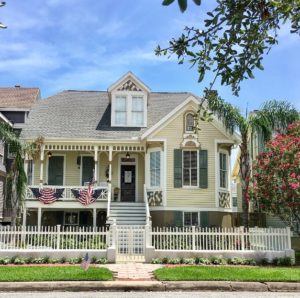 I almost passed this adorable home by since I was on my way to an appointment earlier this week, but had to turn around to take its photo to share with you!
John Jacob and Wilhelmina "Mina" (Miller)  Theobald built this Galveston cottage at 1605 Winnie in 1892, after they had been married 14 years. It's a bit mind-boggling that something that seems so small and quaint in comparis
on to surrounding homes actually survived the 1900 Storm.
It must have been a lively household, with four bedrooms and eight children!
Daughter Mary Elizabeth married Otto F. Lossow in the home in Oct. 1910.
Daughter Susie married Oscar Milton Scales there in 1913. For the next few years, she ran her cut flower business out of her parents home (probably because they had the luxury of a home phone). She took orders for a wide variety of cuttings for the grand homes and special occasions of her customers, including Easter lilies, hydrangeas, callas, geraniums, larkspur. coleus, roses and more.
Her two other sisters Julie and Alice never seemed to have married, but Julia became one of the first female attorneys employed by Galveston County. There were four sons as well: George, Louis, August and Charles (who was also an attorney for the county).
John owned a large carriage and blacksmith shop on Mechanic, and built many types of specialty conveyances for locals and customers in other cities. He also had a staff of ferries (trained in the horseshoeing trade) and blacksmiths. 
Mina hosted meetings of Galveston's Young Women's Embroidery Club at her home.
It sounds like their home was filled with beauty and joy. What a wonderful legacy.
Would you attempt to raise such a large family in this relatively small home?