There's nothing that's more fun than when someone shows an interest in what you do (O.K., maybe a couple of things – but it's right up there!)…so I was thrilled to be contacted by the television show Texas Country Reporter to talk about the historic cemeteries in Galveston.
This particular show focuses on the people of Texas more than the places, so there were more questions about me than I'm accustomed to…but you better bet that we ended up talking about Galveston history just the same!
I was originally contacted by one of the producers, and we exchanged a few rounds of information via email and by phone. Once the shooting schedule was set I was given a date that my segment would be shot.
What we see when we watch TCR episodes is a series of short interviews, but there are hours of work (and miles of travel) that go into producing each one.
When I asked Quintin, the energetic young producer in charge of my shoot, how the logistics of shooting so many stories come together, he explained that there is more than one team.
The crews group their shoots by area of the state, then line up times each subject has available.
Two sets of production teams are sent out to begin filming separate story segments for the show. After initial footage is shot, the hosts join them for their portion and then leave to join the other team.
Once the twosome in charge of producing and shooting the Galveston segment had time to get the bulk of footage with me in the cemeteries, the show hosts arrived to film their part – which took about an hour.
After the hosts finish, they left to meet up with the other producer/camera team to film their part of another story.
These two teams kind of "tag team" doing stories for a week, and then return to the office to edit the following week while another set of teams goes out. The process is obviously a well-oiled machine.
Quintin and Dan met me at the Broadway Cemetery District to go over ideas for information to include and begin shooting some "B roll" footage. "B-rolls" consist of footage edited in around the main portion of the segment to complement and fill it out.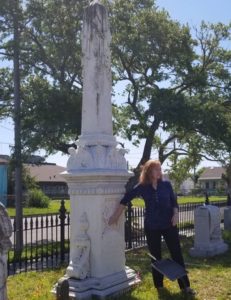 I had sent out a note to some friends a few days prior that we would need some "faux tour-takers" when the crew needed shots representing the tours that I give at the cemetery, just before noon, and luckily I have great friends and a super sister who braved the heat to join us for a little over an hour. A HUGE thank you to all of them!!
After that, the show hosts Bob and Kelli Phillips arrived. If you watch the show, you will be happy to know that they are just as sweet and thoughtful as they appear on TV.
The producer and I had figured out ahead of time some of the information to include, but the couple had many of their own questions as well. Sitting on the wall of Trinity Episcopal Cemetery, Kelli and I got to chatting right away. Though Bob was standing behind the producer and Dan the camera operator, he asked questions as well, but it soon became apparent that the segment would just include Kelli and I on camera.
The producer at one point laughingly asked Bob, "Are you just going to give Kelli the entire segment?", to which he replied, "I guess I am."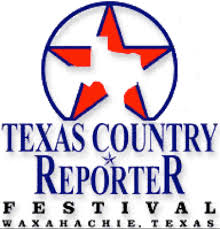 They also invited me (as they do all their on-air guests) to take part in the Texas Country Reporter Festival in Waxahachie on October 28. I'm trying to decide if I really want to have a book booth…or just wander around and have fun talking to people! You can find out more about the festival here:  http://texascountryreporter.com/festival
After the Phillips left to go on to the next assignment, we took a lunch break with the plan to meet afterward at the Galveston Texas History Center of the Rosenberg Library. It's one of the locations that I told the crew from our first conversations was important to include.  Their resources are invaluable to any researcher interested in local history.
The Head of Special Collections Lauren Martino and Senior Archivist Sean McConnell were wonderful enough to have pulled a wide variety of maps, documents and photos to represent the types of materials that might be used in my type of research.
Once we finished at the library, Quintin and Dan were heading back to the cemeteries to look for particular types of gravestones to shoot, so I went with them to save them from wasting "searching around" time.
It also gave me a chance to talk to them a bit about how they got started, what the favorite stories they worked on were and why. They get the chance to capture stories of all sorts of people: artists, veterans, craftsmen, storytellers and local characters.
The day before they filmed the Galveston segment, they shot a beekeeper in Houston removing a hive from the wall of a home. They all had to wear the protective gear, but said it was still pretty unnerving.
One laughed an said it was obvious that I was usually on the "other side" of interviews. Well…yeah.
I was also very happy that they filmed its story in late April to catch some of the amazing coreopsis that covers the cemetery complex in May. They may not have been at the height of bloom, but they looked beautiful. And hopefully this adorable little girl will be making a cameo appearance!
And just a note…we met at the cemeteries at 7:40 a.m. and left that day at 4:15 p.m. So I probably s-h-o-u-l-d have remembered sunscreen, ha ha!
When Quintin and Dan left they were heading for Beaumont to film the next day. Quintin is single and Dan has arranged to bring his wife along whenever she wants, so they are both at perfect times in their lives for this kind of work. What a great way to see our state.
So when will the segment about Galveston's Broadway Cemeteries air? We'll have to be patient. It will be part of the new season in the fall, so I should have an airdate by September. I'll keep you posted!
In Houston Texas Country Reporter airs on Saturday evenings at 5:00 p.m. on KHOU 11 (CBS). For other market airtime and stations, visit http://texascountryreporter.com/showtimes