One of the least known and most fascinating museums in Houston surrounds a topic that not everyone is entirely comfortable discussing – funerals.

     The National Museum of Funeral History isn't only a great idea to visit around Halloween, though. The tasteful curation of a fascinating collection from across  generations and cultures will soon have you roaming around wondering why you haven't visited before.
     I admit I hadn't visited the museum since they were in their original, much smaller space so I was wowed by the 30,500 square feet of exhibit space is filled with fifteen permanent displays that explain topics from the lives and deaths of popes, to presidential funerals and the Day of the Dead celebration as well as visiting exhibits.

     My favorite room is filled with historical hearses, which will especially amaze car enthusiasts.  Rare horse drawn carriages from the 19th century sit beside the actual hearses that carried actress Grace Kelly and U.S. Presidents Ronald Reagan and Gerald R. Ford. There's even a 1916 Packard funeral bus large enough to hold a coffin, pallbearers and up to 20 mourners.

     The museum even has Roy Rogers and Dale Evans parade car…and you have to see it in person to believe it!

     Around each corner are unexpected surprises, including a replica of Snow White's glass coffin and displays of funeral details of the rich and famous.

     A collection of fantasy coffins from Ghana, West Africa captures the personalities of the departed. Imagine being laid to rest in a wooden coffin carved to resemble an eagle, a chicken, an airplane or even a Mercedes Benz! They are truly pieces of art.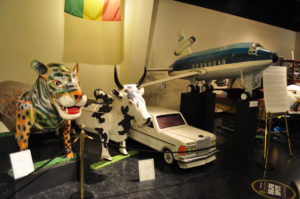 Other exhibits explain the history of topics like the history of embalming or 19th Century mourning. They'll open your eyes to a part of history that isn't often talked about, but can of course be bypassed if you're with younger ones who you'd rather not have view them.
     Rest assured though, there is nothing gory or blatant about any of the displays. And yes, there's a gift shop with a great selection of conversation-starters to commemorate your visit.
     Whether you're looking for something you consider a bit creepy to visit for Halloween, or an unusual museum that your friends probably haven't even heard of…this is the spot.