The next stop on our Texas Route 66 trip was the charming little town of Vega, the county seat of Oldham County. Locals, or "Vegans," are some of the friendliest folks you'll find along this trek. The people here and their love of the history of Route 66 are a perfect example of how the road and its travelers can become the fabric of a community.
     Walking around the courthouse square, it was easy to spot the show stopping mural of a white buffalo on the side of a building at the corner of South Main and West Main – just across from the Bee's Knees Café (whose "Sweet Tea" sign would have tempted me into sitting on their bench for a spell if they'd only been open!).
     The massive painting screams Southwest pride and will capture the heart of anyone who loves the area's history, wildlife and deserts. It is one of four murals painted by talented art partners Joshua Finley and Valerie Doshier in 2014. Tragically, Valerie died of a brain tumor just two years later. What a beautiful legacy of public art she left for passersby to enjoy for years to come.
     The children's book character of Cheeky Maneeky whose stories she had outlined before her passing were later brought to life by her mother D'Ann Swain's writing and Finley's illustrations.

     Another of the duos' murals appears on the side of a 100+-year old building at 1005 Coke Street that used to serve as the town's lumberyard. Expanded a few years ago, it now houses the Milburn-Price Culture Museum that displays memorabilia from around Oldham County including a 1926 Model T affectionately named "Tin Lizzy." (But I'll say a bit more about her later.)
     The mural at this site depicts the famed XIT Ranch, whose history will be at least vaguely familiar to anyone raised in the state an subjected to local history books. The Panhandle ranch encompassed a mere three million acres (yes, really!) and was conceived in 1879 to fund a new state capital building. At its peak, it raised 150,000 head of cattle, represented by the large longhorn statue who,…ahem…has a "66" brand instead of an "XIT." The last of the cattle were sold in 1912.
     What's most likely to catch your eye as you approach the building is the world's largest branding iron laying on the ground beside the parking area. The XIT iron, made by Greg Conn, was designed so that visitors who drove into the lot at night could cast an immense "XIT" shadow brand onto the side of the building with their headlights. It's certainly impressive even if you only visit during the day.
There are countless vintage gas stations in every stage of repair and disrepair along the route, but the restoration on North Main Street (Coke Street) is sure to make visitors smile.
     Colonel James T. Owen opened the "Hi-Way" Magnolia station in 1924 on what was then the Ozark Trail, a partially bricked and partially dirt road. It was only the second service station built in Vega. Owen was an important figure among highway boosters rallying to have Vega as part of the upcoming Route 66.
     Edward and Cora Wilson leased the station from Owen just a couple of years after it was built. The Wilsons lived above the station until 1930, in two cozy rooms with one sink. They had to go downstairs to access the bathroom. Can you imagine? Right on Main Street.

    After the Wilsons, a string of businessmen leased the property including E. B. Cooke and A. B. Landrum. One operator, Kenneth R. Lloyd, claims to have actually married his wife at the small station before moving upstairs to live.
     The station went back under family control when Owen's son Austin took over the operation in 1933, and entered into a lease with Phillips 66 Petroleum which charged him one cent per gallon of gas sold. The average price of gas was 18 cents per gallon, so that was a pretty good profit!
     By 1937, the year J. T. Owen passed away,  Route 66 was paved through Vega just south of the station.
     Vega's Magnolia station shut down its pumps in 1953. From 1953 to 1965 the building was home to Slatz Barbershop.
     The service station remained vacant for decades, until Vegans rallied to restore it. The before and after photos are pretty impressive, don't you think?
     Restoration was completed in August of 2004, and now the station contains mementos of its previous life. The museum is open on special days or by appointment, but you can glimpse many of its contents through the large windows. A glass-globed pump and blue oil pump sit out front.
     If you're into the more "kitschy" finds along Route 66, it's hard to beat Dot's Mini Museum on North 12thStreet. Dot Leavitt's family ran a refrigerated storage facility named the Vega Zero Lockers. For years they provided services to locals and travelers along the Mother Road, including "Jugs Iced Free." Sounds like a pretty good deal, considering most cars didn't have air conditioning! It was also the only place to buy ice on Route 66 between Amarillo and Tucumcari.
     Determined to share reminders of the era after the interstate passed Vega by, Dot began an informal collection of Route 66 artifacts and memorabilia, which turned into her "mini museum" in 1963.
     Known for her sweet and chatty nature, Dot became instant friends with all who stopped by to learn more about her unlikely treasures. She is said to be the inspiration (along with Lucille Hammons from Hydro, Oklahoma) for the character of "Tin Lizzie" in the Disney/Pixar movie 'Cars.' (See? I told you that "Tin Lizzie would come up again!) The character, voiced by Galveston native Katherine Helmond, owned the Radiator Springs Curio Shop and was the oldest auto in town.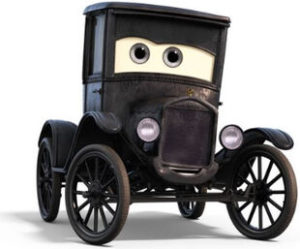 Dot passed away in 2006 at the age of 89, and the collection is in the care of her daughter, Betty Carpenter.
     If you're lucky enough to run into Betty on the property, she'll show you around. There wasn't a sole in sight on the hot afternoon of our arrival, so we satisfied ourselves by taking some photos of Dot's whimsical outdoor collections.
     There's quite a variety to see, including a gravestone for a newspaper that no longer exists, a waving cowboy made of reclaimed metal parts, signs with humorous bits of advice, and…my very favorite…the cowboy boot tree.
     The living tree, decorated with discarded boots of all shapes and styles, actually gets more fascinating the longer you look at it. Taking in the details, you'll find "well-loved" boots weathering to the point of stitching unraveling, sole nails protruding and heels expanding like the "grow capsules" my daughter used to play with that expand into interesting shapes when you drop them into water. It's definitely a no-place-but-Texas kind of thing.
     The yard of this diminutive museum alone is worth pulling into the town of Vega.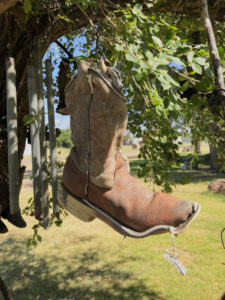 If you're into staying in "rooms with a past," you'll definitely want to check out the historic Vega Motel that opened as Vega Court in 1947. Listed on the National Register of Historic Places, it's one of the last remaining tourist courts on the Texas stretch of 66. The Lucky Horseshoe "residence" at the Vega Motel recently opened as an accommodation option for road weary travelers, with enough room for the entire family. Here's the link. (If you haven't ever stayed in an Airbnb before,

this code

will get you $40 off your first booking!)
     There's even a barber shop on the property, so if you're in need of a trim after getting windblown on the road…you're in luck. The rest of the motel is currently undergoing renovations, so I'm looking forward to heading back that way to check on the progress!
     The last thing I wanted to search for before we had to move on down the road was this wonderfully weathered Pepsi-Cola sign…and I feel lucky have have found it.! If you're in the area and want to see this beauty for yourself, it's on the original Route 66 between 14th and 15th Streets. And yes, those of you who know me well know that I'm a

Dr. Pepper

girl through and through, but who could resist this beautifully hand-painted relic?
     Just in case you're interested, Oldham Country has the longest stretch of Route 66 stencils painted on the roadbed, at ever other mile marker beginning east of Wildorado (don't-cha just love that name?) all the way to the west of Adrian. And though I don't advise sitting on the road for a photo opportunity, there are a surprising number of places on the original Route 66 alignment that you'd be hard-pressed to spot an on-coming car. I settled for snapping my shadow rather than taking a chance. Just sayin'.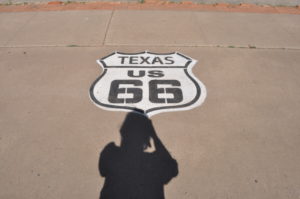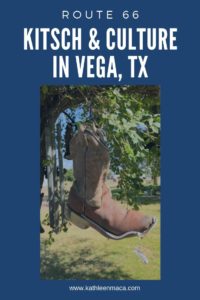 Related stories:
Adrian – Midpoint of Route 66
The Bent Door Cafe's Quirky Origin