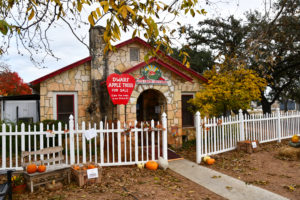 Apple pie, apple tarts, baked apples, apple fritters, apple dumplings, apple cobbler, apple cakes, apple cookies, apple pandowdy, caramel apples, apple pancakes, apple bread pudding, fried apple pies, apple cider, Apple Brown Betty . . . is your mouth watering yet?
     It might be time to set a course to Medina, the Apple Capital of Texas.
     On the way home from Lost Maples State Natural Area (read more about this trip

here

), my friend and I made a stop at Love Creek Apple Orchards Cider Mill and Country Store to treat our tastebuds to some fall goodness.
     This country store is popular stop for travelers in search of apples for snacking or baking. They offer 11 kinds, including Granny Smith, Fuji, Gala, Jonagold and Pink Lady.
     If you aren't passing by during harvest season there are still plenty of yummy things to indulge in. Walk through the store to a covered courtyard area and order up tasty freshly made apple cider, an apple dumpling with a sugary crunch, a slice of apple pie or even apple ice cream. Of course they also have burgers, sandwiches, salads and quesadillas if you're more "hungry" than "munchie."

     If you're feelin' saucy, there are plenty of options to bring home as well. (We did some early Christmas shopping. Shhh!) Store shelves are lined with jars of apple butter (my favorite!), apple pie filling, jams, jellies, and syrups, And…darn…you're also encouraged to taste samples while you browse. Old-fashioned apple-y goodness!

     Whether you're looking for a fall photo opp or just to make some memories, the Apple Store Bakery and Cafe is a tasty way to start off the fall season.

     Be sure to check their website for the Great Hill Country Pumpkin Patch where pumpkin painting, apple orchard tours, farm animal petting zoo, games, hayrides, hay maze, storytelling, scarecrow building and sing-a-longs will keep the entire family entertained. For information about dates, times and entrance fees click

here

.

     If you can't make it to the Hill Country in the next few weeks, you can still treat yourself by ordering some of their most popular items online

here

.
     (And, um . . . if you're shopping for me . . . remember the apple butter. Hint, hint!)
     Your tastebuds will thank you either way.

Love Creek Apple Orchards Cider Mill and Country Store
13558 TX-16 in Medina