Driving down Highway 36, it's a bit of a surprise to see a lone (quite large) Indian statue kneeling in a pasture. And when you do, ya just know there's a story behind it!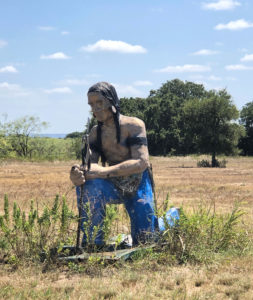 In 1936 a new restaurant opened at 6151 Main in Houston, across from the original Rice Stadium. Bill Williams' Chicken House was one of the few places along Main near the campus, and offered students a place to eat on weekends when there was no food available at the dining hall.
     Word about the delicious fried chicken quickly spread, and it became one of the most popular places to eat in the area.
     The Chicken House had a dining room as well as a drive-in, and an upstairs banquet hall with room for 200 guests.

     When business declined due to competition ad the economy in the mid-1940s, Williams added an oyster bar and added seafood to the menu. Happy diners in 1946 could purchase a dozen oysters for 70 cents!
     Around the same time, Williams replaced a rooftop sign of two Native Americans cooking over a campfire with tall, fiberglass statues of the same scene. One Indian knelt on one knee holding a skillet over the fire, and the other supervised, sitting cross-legged across from him. At night, the campfire was lit with flickering lights to simulate flames. You won't find depictions of Native Americans cooking in skillets in most history books, but the eye-catching display became one of the well-known roadside attractions of the day.
     Williams was also a generous philanthropist and supporter of the Houston Livestock Show and Rodeo.
     The restaurant closed in 1973, and Williams passed away eleven years later at the age of 72.
     James Wheeler was a member of the demolition crew that razed the Chicken House. He bought both of the Native American figures and moved them to his family's property in Fort Bend County. When that property was divided, Wheeler used his money to purchase a home near Lake Somerville in Burleson County and took the figure holding a skillet with him. The other figure remained in Fort Bend, and its current whereabouts are unknown.
     Wheeler later sold his Somerville home, the new owners insisted that the Indian be left on the property, but later decided to dispose of it.
     Dennis Griffin and his wife made an offer on a whim, and ended up as its new owners, moving it to its current location. He's considered a sort of a mascot in Somerville, whose school mascot is a Native American from a mythical tribe. Mysteriously appropriate, don't you think?
     So the next time you're cruising down Highway 36 through near Somerville, keep an eye out for this unusual piece of restaurant history that…at least for now…has finally found a permanent home.