It's my biggest weakness…Diet Dr. Pepper. Guess that's part of what makes me a true Texan. The same goes for my sister.

     One of the sites that sends heart emojis through my brain when I'm on the road is spotting a Sonic Drive-in, where I can order a Route 44 (yep, 44 ounces!) Diet Dr. Pepper with vanilla. Oh…my…goodness. Especially since I don't drink coffee, these caffeine boosters really come in handy!
     So when my sister and I were in Waco recently, of course we HAD to visit the Dr. Pepper Museum.
     We were pleasantly surprised by how interesting and large it is.

     The drink itself originated at Morrison's Old Corner Drugstore, which is represented with a charming reproduced facade at the museum. Go inside and you can hear an automaton of Charles Alderton talk about how he invented the beverage through a series of experiments with fruit syrup mixtures in 1885.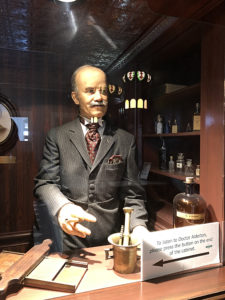 He dubbed his creation  "Dr. Pepper" (the period was dropped in the 50s). In 1891 the bottling operation  was founded that later became the Dr Pepper Company.
     Once the drink was introduced to a larger audience at the 1904 World's Fair, it's popularity spread like wildfire.

     During the 1920s and 30s researchers discovered that sugar provided energy and that the average person experiences energy "letdowns" during the day at 10:30 a.m., 2:30 p.m. and 4:30 p.m. It was suggested that drinking a Dr. Pepper (no sugar shortage there!) at 10, 2 and 4 would avoid that.  This was incorporated into an advertising campaigns for about 20 years, and helps to date any old advertising (including outdoor murals) that includes "10, 2 and 4."
     There's so much more history to see at the museum including a working bottling line and a dizzying peek into the 27 1/2 foot deep, original artesian well that provided water for the product.
     There are also period delivery trucks, promotional toys and even a miniature town diorama that will steal your heart.
     This is one of those rare tourist attractions that would be great to see with multiple generations of your family, as they can all find things that will jog memories and bring a smile.
     And at the end of your visit you can treat yourself to something from the on site ice cream parlor and soda fountain!
 
Operating soda fountain and ice cream parlor
     To find out more about the Dr Pepper Museum including hours and admission, visit

Dr Pepper Museum

.