I have to tell ya…I've been looking forward to staying at this renovated mid-century motel all through covid shutdown! If you watched my instagram live interviews/tours of hotel properties around the state during shutdown, you've already seen a sneak peak of this one.

   The sign alone would have convinced me, but the rooms, gathering spaces and friendly owners and operators make this a definite addition to a road trip list.
   The Desert Air isn't one of the made-to-look-vintage places. It was actually built in 1960 by Ervin and Melburn Grisby, who operated it until 1971. Here'a a photo of Ervin and Melburn — can't you just picture meeting them at the motel back in the day?
   Ervin worked at the Kerr Mercantile  for 35 before building the motel. He even met his wife at the store. So it's especially appropriate that one of the store's (it's now known a Z-Bar Trading Company) dinosaurs has taken up residence at the motel. But more about that in a minute… 
    Besides bringing the entire motel back to life, the new owners have added a couple of their own signature touches to the place, including custom benches outside each room where you can sit back, enjoy the sunset and kick the dirt off your shoes.
   They also restored the iconic sign and lit it with an ingenious method that avoided costly neon. She's a beauty!

   Each of the rooms has its own special charm and is decorated with photo artwork featuring the beauty of the area. We stayed in Room 117, the Ocotillo Suite, which is the only one that has a private courtyard with table and chairs, a "cowboy tub," view of the mountains and a T-rex…. because… why not? It was a nice place to enjoy the mornings and evenings with a cold drink and catch up on a few emails.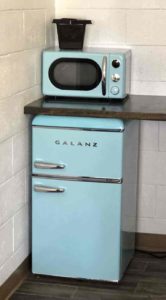 The rooms are just retro enough to be fun, but with all the amenities you'll expect from a modern day motel including a small fridge and microwave. And that bed felt s-o-o good after a long drive, let me tell ya!
 
   Even if you're lucky enough to have the room with a private courtyard you won't want to "keep to yourself" for very long, with tempting gathering areas calling your name. The center court space made it easy to socialize with the other guests, and turned into a bit of a party when everyone offered to bring items from their travel coolers to share.


   That nice shady oak tree and large rock (it's called the "Hoot Owl Rock) in the courtyard hail back to another set of owners, Charles and Mary Beth Stavely – the second owners.
   Walk through the passage by the office to the side yard, and you'll make the unexpected find of a school bus. The current owners have re-floored the interior of the bus and created a shaded area outside to provide other secluded spots for the guests to enjoy the outdoors.
   Why a bus? It's a reasonable question, and the answer ties back to the third owners Merv and Gerri Degraff who left the motel to their son Scott. A musician and motorcycle enthusiast, Scott drove the bus (loaded with his gear) from Florida to the motel, parked it out back, and there it stayed. Luckily the new owners Nick, Sara and Joe took pity on the bus and fixed it up to serve a purpose for their new venture. Pretty cute, huh?
   I promised you a bit more info about the Kerr Brothers Store. Technically a hardware store, it isn't usually something that I would add to my itinerary, but this one is definitely unique. Yes, it's probably the BIGGEST hardware store you'll sever see, but it also has, well . . .

   Yup! Dinosaurs. And every type of metal "yard art" that you can think of and a LOT that you can't! One step inside the door will make you stop in your tracks to try to take it in, but just take your time and wander. You'll find things that make you laugh, things you might actually consider taking home, and things that will have you gaping in confusion. Even if you're only driving through Sanderson and not staying, this is well worth the stop.

   It was eventually time to check out of the Desert Air and get back on the road, but we'll definitely be back.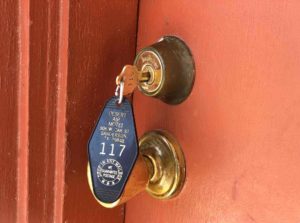 There was one more touch that I appreciated while getting ready to leave. Each room is provided with an envelope with the name of the member of the housekeeping staff, in case the guest would like to leave them a gratuity. To me it shows how much the owners appreciate their staff, and let's be honest…it's so easy in the rush of packing to forget this gesture. The envelope was a nice reminder and made it convenient as well.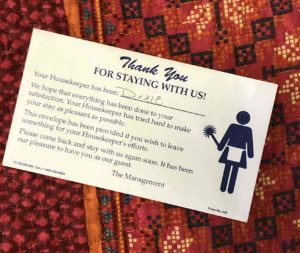 Next stop: Alpine and a couple of surrounding towns. You won't want to miss riding along to see what we found!