Judy Bell Burse
Died Jan. 24, 1924
Aged 27 Years
Asleep in
Jesus
An unassuming, concrete grave marker people might wander by, thinking surely not much of a story could lie here. They would be wrong.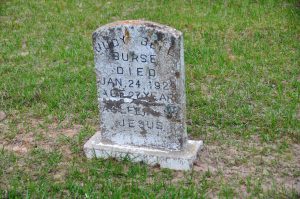 The first clue that this is no regular grave is in its location: the Captain Joe Byrd Cemetery in Huntsville, Texas. This cemetery is located about a mile southeast from the Walls Prison Unit and contains over 2,000 graves of inmates who either died in Texas prisons or were executed Graves of inmates whose bodies weren't claimed by family or friends.
The male graves far outnumber the female sites, which makes them especially intriguing.
Though her marker states her age as only 27, she was actually 34 years old (born in 1895)…still so young to die.
When she was just a teenager, Judy Bell Tally married Jessie Burse. The couple lived on a farm in Gilmer, in Upshur County, Texas and had a daughter named Estelle in 1913.
It was not a happy marriage though. Jessie had a terrible temper was abusive to Judy, even whipping her.
Judy sought consolation in another man's arms. Her lover, George Anderson, was enraged by the whippings and stated to friends that he was going to "get his meanness on" and kill Jessie.
After spending the day  at the home of Judy's father, Will Tally, George and Judy left around midnight to walk to her home. They had no idea they were being followed.
The couple stopped in a plum thicket to make love (three times, according to court records), and afterward were sitting together talking when her husband Jessie came up the path. Judy cried "There's someone with a gun," and Jessie, brandishing a stick in one hand and a gun in the other, yelled "I've ****** got you!" He raised his gun to take aim but George shot first, killing Jessie immediately.
According to trial records, George explained, "when he done that of course, I, just like any other man would do to protect myself, I shot. She insisted on me taking the gun to kill her father a rabbit, that's why I taken the gun."
He and Judy Bell then picked up Jessie's buckshot ridden body  and carried it to a thicket about four hundred yards away. It was a dark night, and no one else was in the area.
The body was soon found by accident, and by April the couple was being tried for murder.
George Anderson pled not guilty, but was sentence to 99 years. Upon arrival at the Darrington Prison Unit in Huntsville he was assigned inmate number 49518.
Judy Bell Burse also pled not guilty. She was convicted on August 12, 1922 and sentenced to 40 years. She was incarcerated at the Goree Prison Unit in Huntsville, which was a women's prison at the time. Her inmate number was #48471.
Judy was considered an ideal inmate and was soon named a trustee, being given special responsibilities in the prison. Unfortunately, she died of pancreatic cancer in January of 1929, never seeing freedom again. She must have "fibbed" about her age, as her marker lists it as being 27. She was 34.
On the other hand, George was constantly getting in trouble for his temper, imprudence and "laziness." The harsh punishments of the day didn't deter him, and probably fueled his rage. His second escape attempt, on June 26, 1924, was successful and he was never recaptured. The last word in his prison log is "Gone".
I wonder if he knew or cared that Judy died five years later.
And there is no trace of what became of Judy's daughter Estelle. She was perhaps the most poignant and certainly the most blameless victim of the crime.
There's always so much more to the stories behind the stones than an inscription can reveal.