Oh my gosh, the holidays can get so hectic. Everyone's schedules are tight, there are different events to bake for, the challenge of finding time to do something special with good friends…oh wait! You can do some of it at the same time!

     This season might be the right time to schedule a Holiday Cookie Exchange!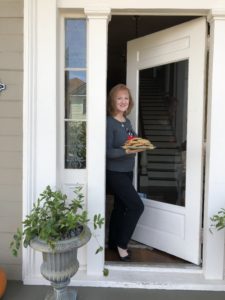 If you haven't participated in a cookie exchange, here's a brief overview of how it works.
Make a list of friends, and send the invitations with instructions. We simplified ours by creating a Facebook event for our group. That way we could all keep up with the number of attendees and invitees could ask questions.

Decide on a location and time to hold your get together. Renting a
beautiful location to hold your exchange takes the pressure off of any individual to get their house "holiday perfect" so early in the season. And since I was in charge of finding a location, you KNOW I wanted to have it at a beautiful, historic property! We had ours in the dining room of the elegant Lasker Inn in Galveston during the middle of the week, when the inn would most likely not be filled with other guests. Look for a similar location in your community and ask if they will charge a lower fee for a weekday morning. Our event was from 10 a.m. until 1 p.m.

Each person is asked to make (or buy – no guilt trips here!) one kind of cookie to share with others attending the exchange. We asked that everyone bring sampling cookies and enough to send at least four cookies home with each guest, that way the baking process wasn't overwhelming. (Some exchanges I've been invited to ask for a dozen of each type of cookie for each guest!)

Everyone can be asked to bring their own containers to fill, or the hostess can provide containers (the dollar store and craft stores have cute options).

With some exchanges, everyone will bring printed copies of the recipe they used to send home with the others. That way, not only does everyone leave with goodies – but also a stack of new recipes to try for themselves.
Yes, THIS is where we got to have our exchange! (Can you believe how lucky are are?!) The 1870 Lasker Inn B&B and Event Venue in Galveston, Texas. It's a stunning home inside and out, and the owner is a delight.

   I decided to share Laura Bush's Cowboy Cookies because….hello…Texas! They are a delectable combination of so many favorite cookie ingredients. My family finds them irresistible. Anything that starts with three sticks of butter just HAS to be pure goodness. And the large treats definitely make a Texas-sized statement when stacked on a platter!
    Here's a link to Mrs. Bush's recipe on the Southern Living website.
     After we spent some time visiting and enjoying our exquisite surroundings (and of COURSE taking some photos), we gathered samples of each kind of cookie to take home. I filled up my pick-up truck (well, at least my truck shaped platter) with all kinds of goodies.

     What a great way to spend a morning together and start off the Christmas season!
     We all went home with plenty of cookies in a variety of flavors to share with our families or to take to our next event. Phew!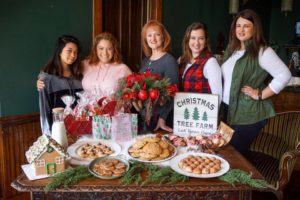 To find out more about the Lasker Inn, visit their website, here: The Lasker Inn