It's Cover Reveal Day!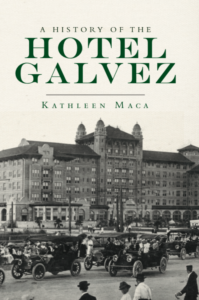 I'm so excited to finally share the full cover of the upcoming 'A History of the Hotel Galvez' with you. Sending a huge thanks to the designers at
The History Press who put together the cover look during quarantine. I'm so happy with it, and receiving the image during the uncertain days of Covid was a great light to hold onto.
I really wanted to relay the historic element of of the hotel, and after going through the images I submitted I think they definitely chose a winner.
Today I'll be reviewing the galleys (a final proof of the book with photo placements, etc.) and sending it back to the presses to become "real."

Release day is February 1, and it's already available for pre-order here.
I'm looking forward to sharing some of the amazing stories behind the "Queen of the Gulf." Have you ever stayed at the Hotel Galvez?