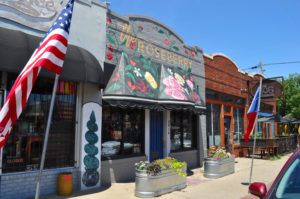 When you hear "National Park Service," you're more likely to think of nature and hiking trails, but it also oversees other historic and natural landmarks, and national heritage districts as well. Surprised?
     Amarillo is home to one of these unique designations. The U.S. Route 66 Sixth Street Historic District is a 13-block stretch between Georgia and Forrest Avenues that provides a perfectly "populated" break for your trip across the Texas section of Route 66.

     Situated on a section of city's Sixth Street (also called 6thAvenue…but that must not have been as catchy) that temporarily merged with the well-traveled Route 66, this stop is far from being your typical Route ghost town.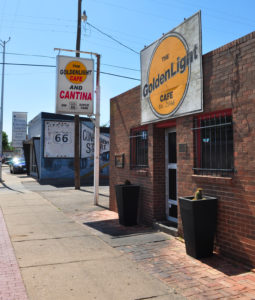 The district and its surrounding San Jacinto neighborhood was originally a streetcar suburb located west of Amarillo's main business district.
A member of the National Register of Historic Places since 1994, it includes Amarillo's most intact collection of commercial buildings from the Route's heyday. Architecture lovers will spot elements of Spanish Revival, Art Deco and Art Modern designs.
     The Bussey Buildings (originally home of the first licensed beauty school in Texas), and Borden's Heap-O-Cream (one of a chain of dairy product stores) are just two examples of historic buildings that have found new life in the district that now includes over one mile of art galleries, restaurants, antique stores, specialty shops and bars.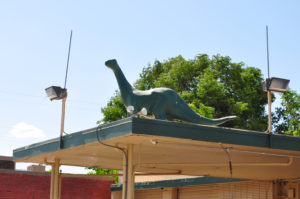 The Natatorium, which is easy to spot because of its castle-like roof crenelations, was formerly an indoor swimming pool converted into a ballroom when Route 66 came to town. One of the hot spots in the area, it featured performers like Duke Ellington and Tommy Dorsey. It even had an underground tunnel to the Alamo bar next door. Now the large space offers shopping from over 100 vendors of antiques, handcrafts, jewelry and home decor.
     My daughter and I love antique and vintage shops, so we started our venture at Antiques Plus (2712 SW 6th Street) at one end of the district with a plan to take them all in order. We were immediately charmed by this beautiful shop. Antiques for me, and vintage clothing for her…and a comfortable place for my patient husband to sit and wait for us! Her selection was reasonably priced, and the sweet, chatty manager behind the register had great recommendations for our visit to the district.
     If you're an antique lover, art collector or just love browsing interesting shops, you definitely want to add this district to your Route 66 itinerary.

     There is no shortage of shops to visit and enjoy and we soon found that many were not only dog-friendly, but had official canine greeters as well. One of the most well-known is Lady at the Lile Gallery. You may have come to browse the inventive art (including items made from chipped off paint from the Cadillac Ranch), but Lady will certainly get the majority of your attention. Not surprisingly, the owner told us that many people come by just to meet or visit with the sweet pup.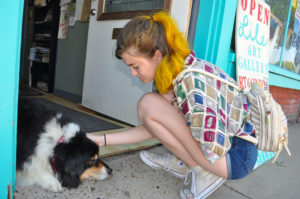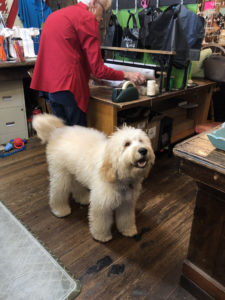 Luckily, there are plenty of cafes and restaurants to choose from when your feet need a break: Mexican, burgers, pub grub, barbecue and more. And if your shopping hours take you into the evening, you'll want to choose one of the venues that also offer live music.
     The Blue Crane Bakery (2332 SW 6th) got a unanimous thumbs-up from everyone in our family. We stopped by this hip, family-owned bakery at the end of a long day to pick up a sweet treat after a long day of playing tourist.  Their freshly made Italian sodas are worth the stop alone, let me tell ya!
     Offered samples of some of the amazing baked goods, we found it impossible to narrow down our choice, so we ended up taking a small assortment of temptations back to the hotel…and didn't regret it. There was even a surprise when we opened the box: a sprinkling of diminutive hand-folded origami blue cranes!
     For friendly customer service, assortments of offerings to include vegan and different dietary choices, and just down-right deliciousness, the Blue Crane definitely makes our recommendations list.

     People drove from miles around to visit Sixth Street back in the day, and they're coming once again to enjoy all there is to see and do in the district