Watch out, it's about to…huh…maybe not.

     Ladies and Gentlemen, the Leaning Tower of…Groom?
     It's not everyday you see a water tower leaning this precariously. There are stories that it was side-swiped by a tornado (not unheard of in the Panhandle), shaken by a tremor (not so likely) or even struck by a wayward aviator. But the real story behind the popular roadside attraction in Groom, Texas is much more inventive.
     Ralph Britten, owner of a restaurant and truck stop along Route 66 purchased the water tower from the nearby town of Lefors, about 35 miles away. After hauling it all the way to his land he learned that the tower couldn't serve its intended function because it didn't meet code requirements.
     Considering his options, Britton came up with the idea of using the power as an attention getting gimmick for his business. He had "Britten USA" painted on the reservoir and, using only a bulldozer to lift the tower into place buried one side part way in the ground while leaving the other appearing to be suspended in midair. Yep, two of the tower legs are actually hanging above ground, with the tower itself leaning at an 80-degree angle to the ground.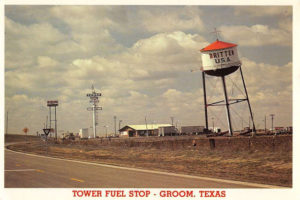 Pretty neat trick.
     For those of you who appreciate the physics and engineering aspect of this feat, you'll be interested to know that Britten partially filled the tower with water, which put its center of mass near the base directly above the two supporting legs. If the tower had been either fully filled or left empty, the angle would have caused it to topple over.
     Even if the mechanics of it don't interest you, it's hard to resist stopping to take a look at the popular roadside attraction. It served its purposed drawing customers to the café and fuel stop until they were destroyed by fire a few years ago. All that remains is the tower and the remnants of the Tower Truck Stop sign.

     The tower is still holding its ground, though and is one of the most photographed Route 66 oddities in Texas.
     The leaning tower isn't the only claim to fame in the small town of 535 people though. It also is home to a short stretch of the original Route 66, and the seventh-largest freestanding cross in the world (190 feet tall)…both of which travelers could zoom past if they weren't on the lookout.
     Groom was also the inspiration for Cross Canadian Ragweed's song "42 Miles" which basically laments about a car breaking down in the town just 42 miles from its intended destination. If you're curious, you can hear the song

here

.
     The leaning tower is just off the interstate, and a photo opp will only take about five minutes of your traveling time – well worth the stop before heading out to see the next offering of Route 66.