When I found this amazing (and immense) Woodmen of the World grave marker in Glenwood Cemetery in Houston, I had no idea that the person who rests here had important ties to Galveston.

Alexander Sessums (born in 1830 ) came to Texas and married Mary Howell Runnels (born 1835 in Houston) in 1854.
He became an important cotton and wool factor in Galveston, eventually also purchasing the wholesale grocery supply on the Strand from Ware & McKeen. Sessums also ran a mill in Houston.
Sessums' office was upstairs in the John Berlocher Building (2313 Ships Mechanic Row, across from the Tremont Hotel) which was built in 1858. At the time, the Berlocher was four stories, only three of which remain.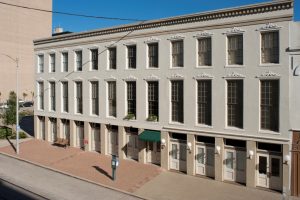 Alexander died at the young age of 43 in 1873.

His monument at Glenwood definitely signifies his success in business, towering over surrounding markers. A beautiful example of Wo
odmen of the World gravestones, the marker shared by Sessum and his wife features morning glories (symbolizing resurrection), roses (symbolizing beauty, for Mary) and acorns (symbolizing immortality for Alexander).
"Broken branches" lay at the base, with individual inscriptions for Alexander and Mary.

It's well worth the trip to Glenwood to see this stunning sculpture in person.
CLICK HERE for a video showing the entire monument: