Biggest little town in the world, indeed!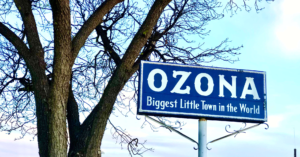 Ozona is the only community in Crockett County which is the size of Delaware. Yep, the only one! It's about an hour southwest of San Angelo, 398 miles from Houston and 347 miles from El Paso. Which makes it a pretty good jumping-off point for a lot of directions.
     But before you zoom through, consider stopping for some of the unique things that Ozona has to offer. We scheduled an extra night on our trip to Big Bend to give us time to wander around and explore . . .and to give the ol' accelerator-foot a break.



     If you follow my blog or instagram account, you've probably figured out by now that I'm a sucker for historic courthouse buildings. I was happy to finally see this one in person.
     The 1902 Second Empire courthouse of Crockett County – named after the legendary Davy Crockett – is the centerpiece of town. Designed by Oscar Ruffini, one of a pair of proliferate brother architects who kept busy populating Texas with their creations. Oscar also designed the Sutton County Courthouse, Tom Green County Courthouse and Ozona High School, and his brother Frederick Ernst designed the Concho County Courthouse, Bastrop County Courthouse, former Blanco County Courthouse (now restored) and the Millet Opera House in Austin.
     The courthouse was made from stone quarried on nearby property owned by the Crouch and Meyer families, and cost a whopping $30,000. In 1909 an arc light was added to the steeple to signal the sheriff (the Batman beacon comes to mind!) and guide travelers to town.
    

It was far more than a courthouse for Ozona and surrounding communities though, and served as a social center for cowboy dances, roundup celebrations, Christmas trees and box suppers (which reminds me of a particular scene from the musical Oklahoma!).

 
    

If the bull's eye or "ox eye" circular moldings the mansard roof look like they're missing something…they are! They were originally intended as a place for clock faces that were never installed. At one point in the past it bothered the locals enough to paint clocks in the features. When the courthouse was recently restored it was decided to leave them as is.

 
     A memorial statue of Davy Crockett stands nearby on the square. Placed on its base in 1938, it was carved from two slabs of granite weighing nearly 20 tons (well, after all – he WAS a heavyweight of Texas history!), and is inscribed with Crockett's motto, "Be sure you are right, then go ahead." Still seems like sound advice.
    

"The Tie that Binds" is an emotional bronze stands at the center of the square just a few strides away from Davy to remind visitors of the perseverance of their pioneer ancestors. At life-and-a-quarter size, it makes quite an impression close up!

    

Just across the street is the former Hotel Ozona (not to be confused with the former Ozona Hotel . . . th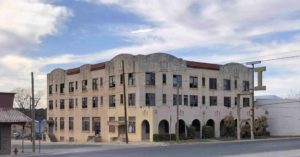 ey could have used a bit more imagination, evidently). The three-story mission style inn was built in 1927 to attract tourists along the Old Spanish Trail. See more of my photos of this abandoned beauty and find out more about the OST here.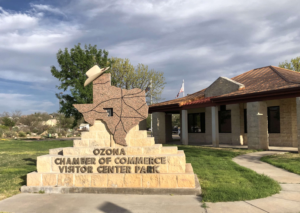 I really appreciate visitors centers that are more than a room filled with pamphlets, and the Ozona Chamber of Commerce and Visitor Center (505 15th Street) is definitely worth a stop (even if it's just to see this cocky granite Texas sporting a Stetson). The building is bright and welcoming, and the staff are versed in numerous local and area attractions that might peak your interest.
     Across the parking lot
 is the 

Crockett County Interpretive Trail (free to visit) showcasing native plants that can b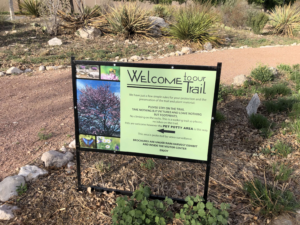 e found within 100 miles of Ozona. The short trail (like a small park) has over 200 plants representing over 75 species, each identified b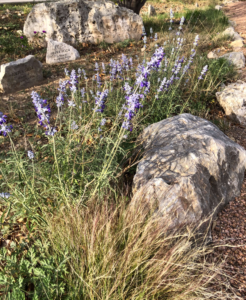 y an inscribed stone. We were lucky to stop by in spring when several of the plants were showing off their blooms, but the display would be fascinating year round.  Botanists and gardening fans will get a kick out of this detailed brochure of the exhibit.

     O

ff-roaders will definitely want to venture out to the Escondido Draw Recreational Area, a 3,500 acre, 110 mile trail for all-terrain vehicles, dirt bikes and 4-wheel drives.

     After driving all day and seeing a bit of town, we were ready to sit down for a good meal, the The Hitching Post Steakhouse (1301 Old Highway 290) came highly recommended. Actually, on some days of the week like we arrived on it's pretty much the only game in town, but that's just fine.
     We were a bit confused when we pulled into the parking lot filled with at least two dozen fire trucks and rescue vehicles from all over Texas until we realized there was a firemen's convention in town. But we definitely took that as a good sign, because let's be honest – firemen know their food!
    The western theme, come-as-you-are restaurant probably hasn't been redecorated much in the last few decades, which the faded photos of Old West Outlaws and cowhide on the wall, heavy wooden club chairs and indoor/outdoor carpeting will attest to – but you won't care a bit once your food arrives. If you're looking for good food at reasonable prices, The Hitching Post fits the bill.
     A smoking room on one side has pool tables and the bar, and the other side of the building has non-smoking seating. An outdoor patio is also a good option for dining on fair weather days.
     Thirsty for something stronger than tea? Be forewarned that the restaurant charges a $5 club fee to "join" to order alcohol.
     Since we hadn't worked up big appetites we decided to split a couple of appetizers, and settled on marinated cube steaks and 1/2 order of fried mushrooms. The portions were generous and deliciously seasoned. Thank heaven the waitress suggested we choose a half order of mushrooms, since a full order would have fed half the firemen in the room.
     I'll definitely go back to try the chicken fried steak next time I'm in town. The fact that they're open until 11 p.m. makes it easy if one of your day trips from Ozona runs a bit longer than expected.
     If you have a bit more time during your visit to Ozona, you might want to explore:
Crockett County Museum

Fort Lancaster State Historic Site in Sheffield

Caverns of Sonora (34 miles)
     Accommodations: We enjoyed our stay at the Holiday Inn Express Hotels & Suites. The staff was friendly and the rooms were lovely and clean. Just be aware that if you're booking because you find a great rate, there might be unexpected charged added at checkout. Our $111 rate (which was one of the selling points that helped us decide to make Ozona a stop)— ended up costing about $165 which is a heck of a difference and more expensive than any of the other stays on our 10-day trip!