Looking for a reason to travel this fall, and get together with friends spread far and wide?
Plan a Destination Friendsgiving celebration!
     The Thanksgiving holiday season is an ideal time to show our friends what an important role they play in our lives. A "Friendsgiving" is a gathering of those people for a feast and time spent enjoying each others company.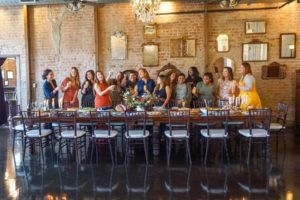 If your friends are coming from different parts of the state – or further, it will simplify things to find a bed and breakfast or rental hall as centrally located to everyone as possible. You might even put a fun twist on things by finding a town with a name perfectly paired to a Friendsgiving feast:
Turkey Texas
Blessing, Texas
Holliday, Texas
Salty, Texas
Moore, Texas (for the group that's sure to want seconds)
Friendship, Texas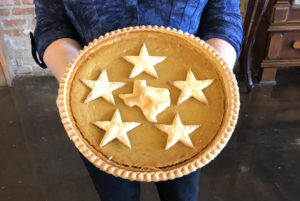 If most of the members of your group live in cities, consider a country setting where there are fall colors and outdoor trails to enjoy together.
     Small town girls might consider staying in the city to enjoy the city lights and shopping.
     For accommodations, check Airbnb, VRBO and the local Chamber of Commerce. Finding an inn with room enough for everyone to stay in one place will extend the fun.
     For our meal space, we found a local small event venue in a historic building (and you know that makes me happy!) that wasn't booked on the weekday we were getting together, and was having some work done on the property, so gave us a terrific deal.
     The location doesn't matter as much as the friends.
     Next, choose a date that works for everyone. This usually means it won't actually be the official week of Thanksgiving – which is great. It takes off some of the packed-schedule pressure. The added advantage is getting everyone away from the holiday stresses that at home.
     Social media can make the planning easy, but keep things as simple as possible.  It's about the time spent together, after all!
     Set up a Facebook event to invite friends, and have everyone add to a master list of dishes they're bringing. Pie and cookies are the most important, of course (I'm entitled to my opinion), but you'll want a few sides and at least one main dish too. Since everyone likely will have a traditional Thanksgiving celebration with their families soon, you may even decide to have a more non-traditional potluck meal, with Italian or Mexican food. No rules!
     Well . . . maybe ONE rule. There must be pie. (It may be MY rule, but I think everyone will benefit from taking this one to heart!)
     If you're traveling to a destination Friendsgiving, consider picking up smaller essentials at a local grocery store to save on packing lists and ice chest space.
     To really put the focus entirely on fun and togetherness, everyone can pitch in on ordering a dinner prepared by a local restaurant and to be picked up the afternoon or evening of the event.
     Once the time and place have been decided, do a little online investigating to search for nearby holiday events that your group might enjoy attending together.

     So what's stopping you? Get busy contacting your favorite gang, choose a merry destination and celebrate your own Friends-giving.
     I'd love to hear where you go!

     And when you're sitting back in a Friendsgiving food coma, take the time to check out the instagram accounts of some of my talented friends who gathered for our special occasion:

Kathleen

(mine, of course!), 

Stacy

,

Tamara

,

Amanda

,

Hailey

,

Christine

,

Vashti

,

Lauren

,

Tia

,

Courtney

, 

LaShanta

, 

Rachel Marie

, 

Sarah

and

Sammy

.