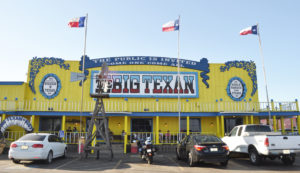 If you've heard one thing about the Big Texan Steak Ranch in Amarillo, it's probably about the challenge: eat a 72 oz. steak in an hour and your meal is free.
    While that may sound like a deal to a hungry cowboy, there's actually a specific list of eleven rules that must be followed. There's actually a "full meal" surrounding the 72 oz. steak that has to be eaten including shrimp cocktail, baked potato, salad and roll with butter. It's a twin meal to the champion of the very first competition at the restaurant consumed.
     Holy Heartburn, Batman!
     When Bob "R.J." Lee opened the Big Texan Steak Ranch in 1960, on the iconic Route 66 touting "huge, Texas-size steaks," many of his regular customers were cowboys who came for dinner after working in a nearby stockyard. Lee noticed that out-of-town visitors were fascinated while watching these Texans try to "out eat" each other.
     As the story goes, one Friday night in 1962, Lee pushed several tables together in the center of the dining room, sat all the voracious cowboys together and told them he wanted to see who could eat the most one-pound steaks in an hour. The cost would be $5 per participant, and whoever won got to keep everybody's entry fee.
     These cowboys obviously had no intention of turning down the dare.
     One fellow with a hearty appetite downed two steaks in just ten minutes…but he didn't stop there. He requested a salad and shrimp cocktail with his third steak, and a baked potato and bread roll with his fourth and fifth. By the time the hour was up, he had devoured all the sides and four and a half pounds of steak (72 ounces).
     In response to the cheering crowd, the excited Lee stood on a chair and shouted that from that day forward, anyone who could eat the entire 72 oz dinner in one hour would get it for FREE…and the famous challenge was born.
     It became the restaurant's biggest claim to fame and was advertised on billboards from Arkansas to Arizona.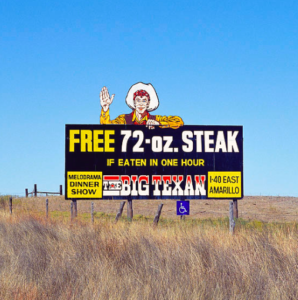 In the early 1970s when Highway 40 replaced Route 66 as the major thoroughfare, Lee and his family purchased land alongside the new highway to build a bigger, expanded version of his steak house dream.

     The original cowboy sign that greeted visitors for years was moved to its new location by helicopter! That would have been a sight!

     If you take the steak-eating challenge today, you are seated at a table on a stage platform in the restaurant, so everyone can watch your progress as the large digital clock above you counts down the hour allowed. Want to see if anyone is attempting it right now? Check out the live stream of the challenge table

here

.
     Now, I had no intention of attempting such madness, but I did want to check out the restaurant. I wasn't prepared for how fun and HUGE it is!
     Pulling in to park between the steak house and it's Old West theme hotel next door, visitors are greeted by the legendary cowboy sign as well as a towering statue of a boot wearing dinosaur propped in two-story tall sticks of fireworks.
     Wait….what? A dinosaur? Well, you just know there's a story there too! Bobby and Danny Lee, "R.J."s sons who now run the business share memories of seeing dinosaur statues on a special vacation that took their family across the historic Route 66. "Dino" smiles down on their patrons to remind them that "it's not always about the destination, it's about the journey getting there."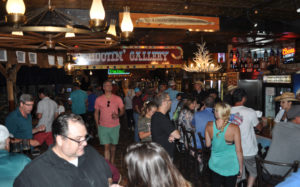 When you venture inside, be prepared to wait for your table at this popular restaurant. Once they hand you your pager, don't just sit and wait for heaven's sake…explore!
     Out back is a large covered beer garden (they have their own craft brewery on site) with live music, old-fashioned games, photo opps that include a stagecoach, huge rocking chair, 18-foot-tall cowboy boot and more.

     Inside try your luck at a carnival style shooting gallery where you can take aim at western targets like rattlesnakes, bad guys and bobcats as well as Frankentein, zombies and Dracula. Who needs Halloween?

     Outside be sure to check out the Texas-shape swimming pool, the motel, a horse hotel (yes, actually for horses), and RV park. And be sure to look down, because this attraction's attention to details goes right down to imprinting cattle brands in the sidewalks.


     The gift shop has every version of a kitschy souvenir that you can think of, and a few you probably can't. The night we were there, it was so crowded with tourists looking for that silly something to commemorate their visit that we needed to scoot sideways down the aisles to make any progress. (These are the times a good sense of humor comes in handy!)
     Once our pager alerted us it was time to chow down, the hostess lead my family into an immense, two-story dining room where chandeliers of antlers and wagon wheels hang from the ceiling.
     We felt like we were walking onto a saloon set soundstage of Bonanza or Gunsmoke, complete with swinging doors, taxidermy mounts, spindle railings, and the cowboy-hat-wearing waitstaff.

     Just about everything – including the margaritas – are garnished with some of the biggest jalapenos I've ever seen.

     While we waited for our food we enjoyed the two gentlemen who strolled the dining room playing western classics tableside for the diners. I kept my fingers crossed they would come our way, and lucky for us they did, asking for requests. (A personal note here: please be sure to tip entertainment like this as the tips usually make up the majority if not all of what they are paid for the pleasure they bring!)

     Kids meals are served in a cowboy hat that the kids can keep as a souvenir. My teenage daughter wasn't hungry enough to eat one of the over-sized meals and asked if she could order from a children's menu. The waitress smiled and said she could as long as she agreed to put on the hat afterward. Good sport that she is, she agreed and did…and no, she would NOT give me permission to post that particular photo.

     I couldn't resist getting the southern classic chicken friend steak and have to say it's one of the best I've ever eaten. I was relieved that it wasn't plate-sized as well, but still couldn't finish it off.

     The vintage look Route 66 / Texan Steak House pattern china was a great touch as well and didn't go unappreciated.
     If you have any room left for ice cream after all that…they have an ice cream bar in the main, too! Be sure to at least stop long enough to taste a sample…it's worth it. Then you can wobble back to your car.
     Generations of visitors have come The Big Texan and often share photos with the owners. It's a tasty tradition. Bobby says he never tires of hearing their stories.
     Just a note: one fun thing we didn't find out about in time is a complimentary limo service to and from the restaurant! The Big Texan offers a complimentary limo pickup from most hotels, motels, and RV parks in Amarillo, as well as Cavender's Boot City, and The Starbuck's on I40 and Grand. Not just any limo, of course! A stereotypical limousine complete with longhorns mounted on the front. Pick-ups start at 4:00 and they drive customers home until everyone they brought is delivered safely back where they are staying. Check their website for the number to make a reservation for this unique shuttle.
      For someone who, as a little girl, devoured anything having to do with the Old West the Big Texan was like stepping into a little slice of good-humored  heaven…even before the food arrived. As a kid I would have eaten it up. But it was just as much fun as an adult.

     I highly suggest putting the Big Texan Steak Ranch at the top of your to-do list when you visit Amarillo. Just be sure to bring your appetite!