Sometimes, when you delve into history to solve a mystery, you end up with several more. That's just what happened when I came across the simple grave maker for "Mrs. Appleton." (And yes, that's part of a snakeskin…seven feet long…laying next to the marker.)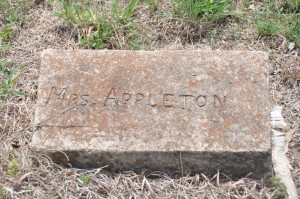 I found this marker in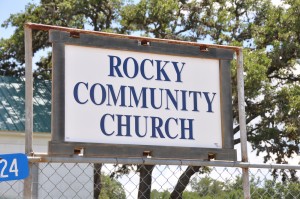 Rocky Community Church Cemetery, sometimes referred to as Rocky Creek Cemetery, in Johnson City, Blanco County, Texas. Unmarked graves make me incredibly sad, but those with only names are sad as well. When did this person live? Where is the family? Not even her first name was included.
That creates the challenge of filling in information with some research.
So who was Mrs. Appleton ?
Her name was Sarah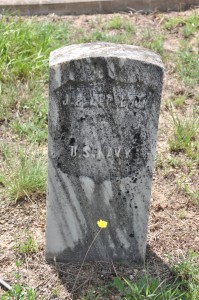 Sarah Jane Null was born On December 23, 1839 in Louisville, Kentucky. In 1859 she married James B. Appleton. James, whose middle initial is sometime listed as "R," was born in Pennsylvania in 1830.
They had their first child James William the following year in Indiana. They then moved to Shelbyville, Shelby County, Indiana in 1865.
From February to October 1865, James served as a private in the U.S. Navy during the Civil War.
Soon after his return from service, the couple had two more sons: John Morris on September 29, 1866 and Wallace P. in 1871.
1870 Sarah and her husband James lived in Shelbyville with with son "Willie" (James William), who was 10, Morris, who was 3 and a house servant named Mary Wilcher who was 37 years old. Sarah was listed as a milliner, and James was a painter.
In the 1880 census, the family was living in Blanco, Johnson County, Texas and farming. They were still there in 1890 when James was listed on the veteran's schedules.
But either farming wasn't a good choice for them, or perhaps they were homesick for Indiana, because the were back living in Shelbyville by 1895 when James passed away (according to Sarah's obituary).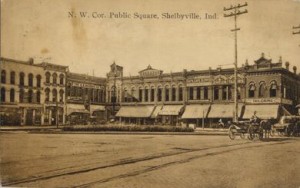 Prior to his death, the couple operated a millinery and dry goods establishment in town. Their store was at the corner of West Washington and Public Square. (The site later became home of the First National Bank Building.) They lived in a home at the corner of Franklin and West streets.
We can assume that Morris took his father's place in the business, since he was living in his mother's home in 1900. That year's census lists her occupation as a milliner and his as a salesman. The 1910 census information remained the same.
John Morris Married Lida G. on May 19, 1912. They eventually moved to San Antonio, Texas where he worked as a grocery store clerk until he retired. They lived at 1023 Alamo Street. Both are buried in Shelby County, Indiana, though.
In 1920, Sarah was living in Shelbyville with her son James, who was 59 and worked at a tobacco company.
Something quickly changed again, however, because Sarah was living in Morris' Shelbyville home when she passed away on November 26, 1921, the following year. Even more mysteriously, James and Sarah's other son Wallace were listed as "whereabouts unknown" in Sarah's obituary.
Where could they have gone, and why wouldn't their family know?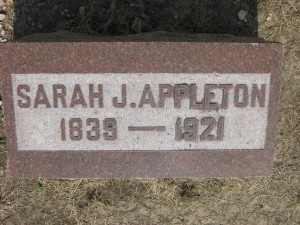 At age 81, Sarah died of apoplexy and was said to have been ill for some time. Apoplexy at the time was commonly used as a term for a store or brain hemorrhage.
Mrs. Appleton had been a member of the First Presbyterian church here for several years. She was also a member of the Woman's relief Corps, the Rebekahs and Royal Neighbors. Her name appeared often in the local newspaper, for attending or hosting social affairs and being involved in community activities. She obviously led a full life and had many friends. (Obituary appeared in the Shelbyville Republican, Saturday, Nov. 26, 1921.)
She is buried in City Cemetery in Shelbyville, Indiana.
So a few questions remain.
If James died in 1895 after they returned to Shelbyville, why is he buried in Texas? Was he perhaps visiting one of their sons who had remained in the area?
Sarah's obituary even mentions her burial arrangements to be interred in Indiana, where there is a marker for her. Why is there also a marker for her by her husband's? Did someone assume she was buried nearby, or was it simply placed as a remembrance?
At least we now know her full name and a bit about her. Mrs. Appleton obviously led a full, active life and had many friends. Something not reflected by the simple marker in the Texas hill country.