If quirky places speak to your heart, you definitely need to pull up a chair in Denton's "Chairy Orchard."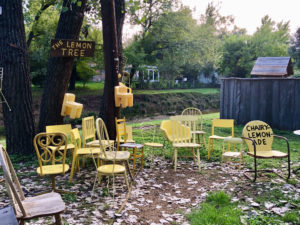 Long time friends Anne Pearson and Judy Smith, known as the "Chairy Fairies,"  live in the houses on either side of the empty lot they've owned for 40 years and created this artsy attraction. Backing up to a creek, the lot is in a floodway so will never be able to be built on…so why not have some fun with it?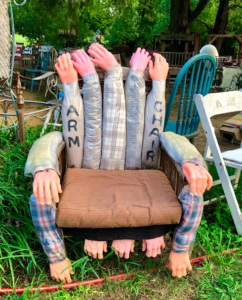 Judy started attaching chairs to a tree a few years back and called it the "Chairy Tree." When Anne joined in the fun, the tree soon turned into an orchard! The chairs com from thrift stores, garage sales and curbside discard piles. Some are even let anonymously by admirers of the project.
     Mark Holderbaum, a friend of the crafty duo, built the archways for the site by welding about 30 metal chairs into a Chairy Arch. Judy' son Terry built a giant chair and hr grandson Drew build the Chairy Totter.

     A collection of diminutive chairs cluster along the boards of the "Chairy-wood Fence," and old and weathered chairs end their display days in the "Chairy Cemetery."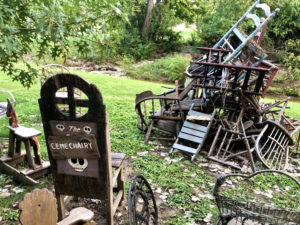 Bring a picnic, bring a friend, bring a sense of humor and definitely bring your camera! The Chairy Orchard is open to everyone from dawn to dusk at 1426 Churchill Drive in Denton.