Starting off a new year usually begins with lofty goals quickly filling up our calendars. But it's probably the ideal time to make a decision to slow down and enjoy the ride.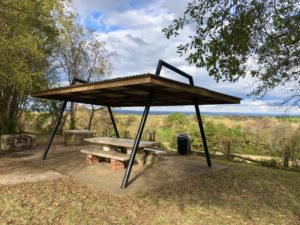 When I was growing up, family car trips looked a lot different than they do today. The journey and taking in the sights of the places we traveled through were just as important and fun as the places we were going to.
   While a modern day family is more likely to think of Bucee's when someone mentions a rest stop, (we had our version of that too back in the day, in the form of Stuckey's) the roadside rest stops were something entirely different.
   Families didn't scurry out of the car and head in different directions with the goal of loading up their arms with snacks and souvenirs.
   Instead small clusters of roadside rest stops, basically roofed spots with picnic tables, dotted the sides of the two-lane blacktop highways and offered travelers a place to get out of their car and stretch their legs, let the kids run off some excess energy, and unload their hamper of food Mom had packed that morning to enjoy a family picnic while taking in a view.
   Texas is lucky to still have a wide variety of these mid-century rest stops, so it might come as a surprise that other states have taken to demolishing theirs. Along Texas highways you might spot some shaped like teepees, with wagon-wheel sides, retro-curved roofs or just simple, functional designs. They bring back great memories of time spent on family vacations, and rank right up there with folded maps from gas stations on the nostalgia scale.


   I've never gotten over my love of road trips, which is a mystery to some of my friends who would rather fly somewhere that's only a couple of hundred miles away. But I've noticed with all of the challenges in the past few months that many Americans are rediscovering the love of road trips, whether they are going across the state or across the country.
   And, yes, I'll make the time to take a few minutes at lovely spots I find like this one, because they're just as enjoyable when I'm traveling by myself.

   Take it from me, and rush less the next time you're driving along to a destination. If you see a nice roadside rest area, take the opportunity to pause for a few minutes, enjoy a drink or snack and the view. It can put a whole new perspective on your trip.
     What road are you planning to follow in 2021?