Leaving Glenrio we headed just 25 minutes east down Route 66 to the tiny town of Adrian, whose claim to fame is being the "geo-mathematical" midpoint of Route 66.
     1139 miles to Los Angeles and 1139 miles to Chicago, or as they like to say, "When you're here, you're halfway there!"

     Like so many other small towns that dot I-40 across Texas, Adrian began when it was chosen as a stop on the Rock Island Railroad. Never mind that the first train didn't arrive at the station until 1909.
     Even though it had its own printing press, post office, lumber yard, blacksmith, brickyard, bank, and running water pipe the scarcity of water and recurrent droughts kept the farming community small and by 1915 the entire town was made up of only 50 people.
     After we took a left at the first intersection after Exit 22 and went over the overpass, and the iconic Midpoint Café appeared on our right (not that there are so many other buildings around you might get confused!).
     Midpoint is the oldest continuously operated café between Amarillo and Tucumcari. It was once a one-room building with a compacted earth floor built in 1928. A waitress named Zella Crin brought her dream of owning her own BBQ restaurant to Adrian and leased the building, naming her café Zella's. True to her roots, she had the wood for her fire pit brought in from Oklahoma.
     In 1947 the café, which was then open 24/7, was enlarged to accommodate the growing number of visitors traveling Route 66. After Zella passed away, Jesse Fincher and Dub Edmunds bought the place in 1956 and operated it as Jesse's Café along with the gas station next door for 20 years.
     When business took a downward turn because of I-40 bypassing the town (is this story starting to sound familiar?), they sold it in 1969.
     Terry and Peggy Creitz operated the restaurant as Peggy's Café, and another owner changed it to Rachel's before the café was sold to Fran Houser in 1990.
     Houser redubbed it the Adrian Café and ran it until she retired in 2012, renaming it Midpoint Café to capitalize on it's unique location along the Mother Road.
     But its location on Route 66 isn't its only claim to fame. Houser and her café were the inspiration for Flo and Flo's V-8 Diner from the movie "Cars," and the characters of Mia and Tia were based on two of her employees at the time, sisters named Christina and Mary Lou Mendez. You can even spot Fran and her café mentioned in the film's credits.

     What was once a gas station next door is now an antique and souvenir shop named the Sunflower Station. In front is an old, red pickup that visitors have written their names all over. Most seen to have been done in a white sharpie, so if you're planning to stop in you might want to bring one along.

     Now owned by Donna and Dennis Purschwitz, the Midpoint's bright, cheery interior filled with retro chrome and Formica tables and shelves neatly filled with Route 66 memorabilia is probably one of the friendliest stops you can make on the Route.

     Though word has it their burgers are tasty, we'll have to take others' word for it because we didn't arrive until 2:00…after the "grill was closed." We were momentarily disappointed (and hungry!) until we realized they WERE still serving their famous "ugly crust" pies. Pie for lunch? Well…if we must!
     Coconut cream, whiskey pecan (yes, you could taste the whiskey), and chocolate pie…just to make sure our bases were covered. A white board near the register lists your choice of "ugly pies" for the day, but one peek in the refrigerator case and you'll want to run off with all of them.
     The lesson here is, of course, to remember to double check their hours online if you head their way. Their Facebook page is: https://www.facebook.com/MidpointCafe/
     A rocking chair reserved for the mother of the family sits by a pie safe in a corner of the dining area to rest in after baking her famous pies.

     The staff is relaxed and chatty, which encourages the patrons to make small talk with each other as well. We met several people from different countries there who were vacationing in America strictly to drive the entirety of Route 66. Everyone was in a great mood, because…pie!…and offered to take photos of each other in front of the Midpoint photo op sign across the street.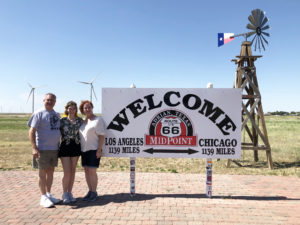 Inside the diner is a small gift shop with what we later realized were some of the cutest, most affordable Route 66 theme shirts and souvenirs. I couldn't leave without a Midpoint Café shirt with a map of Route 66 on the back.
     I look forward to going back one day and trying one of their burgers and, of course, more pie.
     In my next post I'll take you to another iconic stop just a few yards away. You won't want to miss this one!