Not every good trip takes a lot of planning, but it really pays off when you're going on a "theme" trip with family members!

     This summer's goal was to drive the section of Route 66 that goes through the Texas Panhandle, and I definitely did weeks of research through travel bureaus, internet, books and maps. I enjoyed the process and it really built up the anticipation for me!
     After doing a preliminary review of the sites along the way, I decided to spread the drive across six days. Now, If you're familiar at all with this section of Route 66 or the Panhandle, you're probably thinking I may have lost my marbles since this stretch of road is just under 200 miles long and would only take about three hours to drive straight through!
     But stay with me, here! There was so much to see!

     I decided to actually begin the drive in Tucumcari, New Mexico which is only about an hour west of the Texas border. I fell in love with photos of the old, restored motels from Route 66 that are still operating here while I was doing my research. It also helped to make sure we were going to include every inch of the Texas section of the road, which I was determined to do!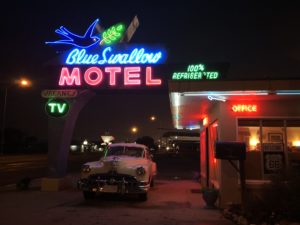 The route would take us across the Panhandle to Texola, Oklahoma (although we took it all the way to Oklahoma City so we could cut south and spend a few days with friends on their ranch).
     One of the challenges of planning the trip was to incorporate things that would be of special interest to everyone in my family.

   My 17-year-old daughter is interested in music, animals, and antique a
nd thrift shops. First things, first…she was in charge of the playlists for the road trip, and I'm so glad she was! She enjoys "vintage" music (like, um, from when I was in high school) as well as some of the new and alternative bands. My husband and I got to enjoy old favorites and hear some terrific new music and only once (yes, once!) asked her to skip to the next song.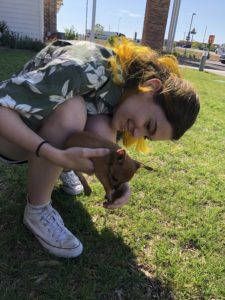 We came across plenty of animals on the trip, which was a treat, but incorporated riding horses into our "definitely do this" list. Seeing the land from horseback always seems to make exploring the outdoors more special.
     There were countless antique and resale shops along the way, so I dove in and checked out online photos and reviews to find some that might suit her particular interests.
     Special bonus: she recently got her driver's license so she helped with the driving, too!
     My husband is a ham radio operator (AB5SS, if any of you are, too!). He has a "roving" antennae and is o

perating to contact every "grid" in the United States. He decided to use this opportunity to help other "hams" contact grids along Route 66 that are difficult or impossible
to cross off their 

wishlists…and he sure made some people happy! He has a map of where each grid is along the way, so we made a point to stop (at least once) in each grid to giv

e him a chance to operate.
He announced via his twitter account that he would be doing this so that interested hams could mark it on their calendar, and then announced prior to each broadcast where they could find him on the air. He made over 150 contacts during the trip! That's a lot of happy ham operators.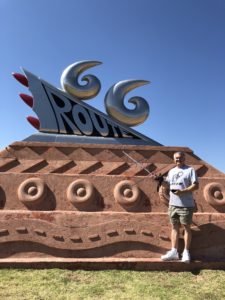 And of course I got some fun shots of him operating in unusual locations.
     Besides Texas history and travel, I love old buildings, cemeteries and photography, so let's admit it … I was basically set for this trip! (Insert "happy dance" here!)
 
     Using Google Maps street view, I virtually "drove" any sections of the towns I was particularly interested in or not sure about. Familiarizing myself with how these places actually appear made things so much easier when we actually arrived, and circumvented some areas to cross off the list as being not as worthwhile.