Do you chimichurri?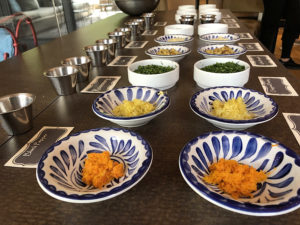 I recently had the opportunity to visit with Executive Chef David Rapozo at Hotel Valencia Riverwalk in San Antonio about activities and unique group experiences for groups traveling together.
     
     In response, he treated our group to a chimichurri making competition. Chimichurri is an uncooked sauce (like a pesto in Italy or salsa in Mexico) that originated in Argentina, which was particularly appropriate as this beautiful hotel is designed with a stunning Argentinian theme and restaurant menus.

     Chef Rapozo demonstrated how he uses a variety of ingredients to make a chimichurri similar to ones that he personally found in Argentina, and then let us sample it. Once we saw that it wasn't as intimidating as we might have thought, he presented us with a table filled with portioned seasonings and oils to try making our own. We were split into teams of two, and got busy mixing.
     Though some of the participants were a bit hesitant at the start of the event, we were all quickly caught up in the fun, while getting to know each other better. The light-hearted approach encouraged everyone to experiment and laugh at any mishaps along the way.
     Much to our surprise, even though we were all working with the same variety of ingredients, each team's efforts had very different results . . . even different colors.
     To our delight, a variety of grilled meats arrived from the kitchen to try the sauces on. Chef Rapozo went first with tasting all the "entries" of course, to act as our judge. And although he did declare a winning team (which just might have been mine!) he gave nice feedback to everyone.
   Now, truth be told, I thought they were all really tasty and it was fun (and delicious) trying all of the varieties. We all went away anxious to try it again once we returned home.
     Activities like this would be a great addition for a group girlfriends getaway or used as a corporate team building event during business travel. Be sure to contact the hotel several weeks ahead of your arrival to allow the staff to present possible ideas (maybe a guacamole making competition?) and allow you time to choose and them to prepare for the experience.
     Try it the next time you travel in a group!