There is no shortage of great places to eat on Galveston Island, but if you're looking for a fresh catch on the seafood scene add Coastal Grill to your list.

     Open just four months, this restaurant already has it figured out.
     Don't let the unassuming exterior fool you. The interior is bright and clean with plenty of seating.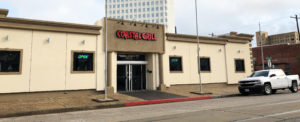 Sitting at the west end of the Strand just a block or two beyond where most tourists wander (1827 Strand), it would be a nice spot for a date night, family dinner or girls' night out with a varied menu to satisfy everyone in your group.
     We were pleasantly greeted as soon as we entered the restaurant. The gentleman then invited us to sit wherever we wanted (it was just before 6 p.m. on a Saturday night, so the dinner crowd hadn't arrived yet) and look over our menus.
     Guests then go to the counter to order (take a peek at the dessert case while you're there!), and the food is brought to the table when ready.
     Looking over the menu, I wasn't sure which direction to go in since the dozens of choices all sounded so good.
     I always look over menus for items that might intrigue family and friends with different tastes, and I can honestly say that there was something for everyone … seafood, steak, burgers, loaded baked potatoes, tacos, tortilla soup, shrimp or beef kabobs and more. And everything was reasonably priced.
     My husband and I finally decided to stick to our original thought of seafood as a type of ultimate "test" of a Galveston restaurant. We weren't disappointed!
     The stuffed mushroom appetizer was a bit surprising in presentation, using a large amount of stuffing with button mushrooms beneath. Both the stuffing and mushrooms were perfectly prepared and tasty.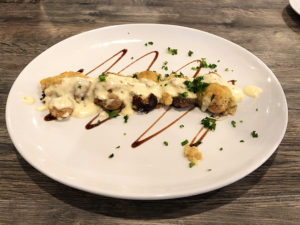 For the main course I ordered grilled shrimp and my husband had the grill red snapper. The "Mmmmm-ing" fest immediately began ( as in "mmmm that's so good).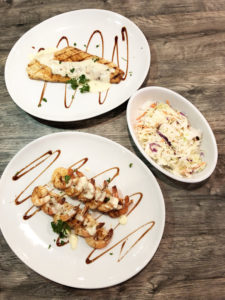 It was immediately obvious how fresh the seafood was, and we expected nothing less being just blocks from the docks. The seasoning was the perfect level to enhance the dishes without masking the natural flavor of the items, as well.
     And let me add here that my husband is a lifelong recreational fisherman, so when his picky seafood palate is impressed it's a very good sign.
     I recommend the slaw as a side, as their version is just as fresh as the entrees and not the "soupy" type I so often unfortunately encounter.
     Everything was attractively plated, and the friendly staff kept our glasses filled and checked on us often.
     We were discussing which dishes we would try on our next visit before we even left the restaurant.
     And…yes. We "had" to try a dessert, too. We split a piece of key lime pie which was made in-house. Just the right amount of sweet and tangy, in a thin-but-perfect graham cracker crust, it was the wrap-up for our meal.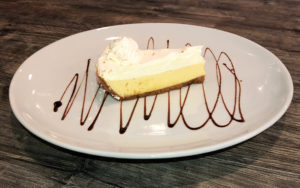 Coastal Grill also has a newly constructed back patio and performance stage ready for some summer music and gatherings. I can't wait to try that out!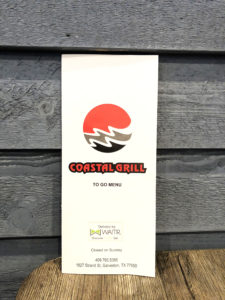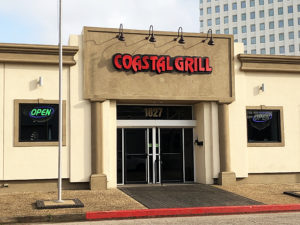 COASTAL GRILL
1827 Strand, Galveston
409-765-5386
www.coastalgrillgalveston.com