IMG_5429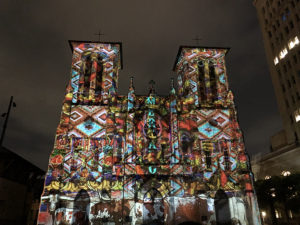 Absolutely stunning!
     I have been looking forward to seeing this since I first heard about it several months ago, but I wasn't prepared for how beautiful and emotional it would be.
     "The Saga" is a video art installation in San Antonio created by French artist Xavier de Richemont. Projected on the facade of the imposing San Fernando Cathedral, the oldest operating sanctuary in North America, in the heart of downtown it definitely makes my "must see" list for the city.
     In the minutes before the show our trio slowly wandered into the plaza to join others who were deciding on their ideal viewing spot in anticipation of the show. A few brought folding chairs, children made their way to the front of the gathering to sit cross-legged on the pavers, but most just stood.
     A rumble of rain followed by crashes of thunder surged through the speakers to start the show, and all eyes were on the cathedral.
   Light, color and a collage of images burst onto the 7,000 square foot projection choreographed to music provided in surround sound speakers.
     The progression of images- drawings, photos and maps – took us on a historical journey through the discovery, early settlement, and development from this 300-year-old city.
     Pictures of landscapes, Native Americans, famous battles and finally skyscrapers filled the space, surrounded by wavy blue lines signifying the San Antonio River. A progression of timely music from Native American songs, German polkas, fiddle solos, and more kept our hearts pumping with excitement to see what would come next.
     Richemont worked with local scholars in the creation of the monumental show. He has produced similar projections on famous architecture throughout the world, including Chartres Cathedral in France.
     Totally mesmerized by the breathtaking display, I didn't have any problem standing for its 24-minute length, even after walking all day…and I bet you won't either.
   And one of the best parts about this $1 million monumental attraction? It's absolutely free to the public! I guarantee that if I my schedule had allowed, I would have attended more than once.
     The multimedia work will be projected on the facade of the cathedral three times a night each Tuesday, Friday, Saturday and Sunday at 9:00 p.m., 9:30 p.m., and 10:00 p.m. through 2024.