I love a good mystery, and a dash of romance just makes it better, right?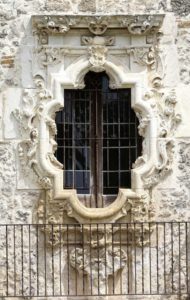 The iconic Rose Window at Mission San Jose in San Antonio is one of the most famous windows in the world. Along with other features of five Spanish missions in the area, it is listed as one of the details that distinguish it as the first World UNESCO World Heritage Site in Texas.
   Sculptor Pedro Huizar carved the quatrefoil shape entangled with the images of pomegranates, said to symbolize fertility, in 1775. Yet the ten foot tall, six-foot wide window sits only about four and a half feet above ground level. And its position in the sacristy wall (where windows were traditionally plain) and the purpose of steps leading up from the interior remain a mystery.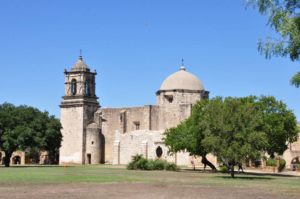 But what intrigues most visitors who come especially to see this ornately carved window are the legends behind it.
   One version of its creation says that Huizar's sweetheart Rosa either died or disappeared in a shipwreck on her way from Spain to be reunited with him in Texas.
   Another that he carved the window in the throws of despair after the woman who he came overseas to make a fortune to win, betrayed him.
   Yet another story relates that Huizar carved the masterpiece after falling in love with a wealthy woman whose family shunned him.
   Which version is true? Perhaps one…or none of them. The tales most likely took shape during a period of romanticism after the 1870s in order to attract tourists.
   But does it really matter? Sometimes the legends can be more intriguing than cold, hard facts.

   Whatever its origin, the Rose Window has become one of the most recognized architectural features in the Southwest. Miniature replications of the window can be seen in several buildings in downtown San Antonio, and there's even a massive version at St. Anne's Catholic Church in Beaumont.
   Which version of the story would you prefer to be true?